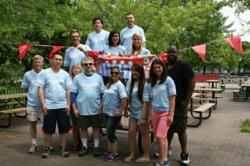 New York, NY (PRWEB) July 25, 2012
Innovest Systems, LLC, a financial technology firm specializing in trust accounting and wealth management solutions, recently hosted a summer carnival for children of New York City's Regent Family Home. The program, co-sponsored by Volunteers of America, was held at Roberto Clemente State Park. Innovest staff and team members from the Regent Family Home celebrated the close of a successful school year. Staff and children of all ages enjoyed carnival games, arts and crafts, relay races, and a delicious barbecue.
Many children live in family shelters across New York City, and education remains one of the city's largest priorities for school-age children. With this in mind, Innovest's summer carnival celebrated the educational accomplishments of more than fifty children while giving everyone the opportunity to spend some time in the sun and fresh air. Through this event, members of the Innovest team had the opportunity to bring a sense of stability to the lives of children living in difficult circumstances.
William Thomas, Innovest's chief executive officer, said, "Participating in the summer carnival gave the Innovest team an opportunity to celebrate the educational accomplishments of children whose dedication to learning might otherwise go uncelebrated. With many children living in shelters and often apart from their immediate families, building positive memories helps cultivate an important sense of community. Innovest was thrilled to be a part of this project."
For more information, please visit http://www.voa-gny.org or call (212) 496-4207.
About Innovest Systems
Innovest Systems, LLC is a financial technology firm that provides technology-driven solutions to trust and wealth management companies. Innovest's flagship product, InnoTrust, is designed to deliver a secure, integrated, real-time system offered in a Software as a Service (SaaS) environment. Innovest's technology is designed to meet the needs of the world's largest global financial services firms, as well as smaller independent trust and wealth management companies. Innovest is headquartered in New York City. For more information about Innovest Systems, visit http://www.innovestsystems.com.