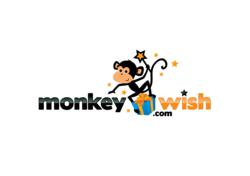 "MonkeyWish.com was created to provide an effortless, stress-free way to create wish lists as well as help recipients get the gifts they really want," said Founder Kristi Taylor.
Gainesville, FL (PRWEB) July 26, 2012
As a society that relies heavily on technology, many would think communication would be a breeze. But, when it comes to the ever-daunting question of what to give for holidays, birthdays and special occasions, we still face the anxiety of "The Perfect Gift." Kristi Taylor, founder of MonkeyWish.com, recognizes this feeling.
Completely overwhelmed in the middle of a pre-holiday shopping rush, the mother of three was attempting to shop for family members, as well as help her children create their own holiday wish lists. Struggling with the pen and paper method of making lists, Kristi quickly realized the system was not working. Frustrated, she sought to find an easier digital answer, but found that nothing existed.
Knowing there were other busy people who could benefit from such a useful tool, Kristi took the opportunity to develop her own solution: MonkeyWish.com. A universal gift registry, MonkeyWish.com provides members the ability to create independent wish lists from any retailer through the use of the MonkeyWish.com website or the exclusive MonkeyWish.com UPC scanner iPhone and Android applications.
"As a busy mother, I embrace the tools that help make life more efficient," said Taylor. "MonkeyWish.com was created to provide an effortless, stress-free way to create wish lists as well as help recipients get the gifts they really want. We wanted to alleviate the useless frustration for both the giver and the receiver as well as make the experience fun."
Offering users unlimited flexibility, MonkeyWish.com is a one-of-a-kind site, providing what most registries do not: the ability to add any item from any store for absolutely any occasion. Whereas most online gift registries are limited to a specific retailer or product, MonkeyWish.com can add any item through the online site, barcode scanner or be input manually.
Registration on MonkeyWish.com is simple and completely free. Members can add items to their wish list by clicking the "Add to MonkeyWish" toolbar bookmark. The tool, which can be dragged and dropped directly to the toolbar from the MonkeyWish.com website, makes browsing and shopping easy, as users don't have to close and windows or copy URL's to add an item to their list. Once their list is populated, they can share it with anyone they wish.
"Never again does someone have to go to a party or a shower with a gift card in hand," added Taylor. "MonkeyWish.com solves that problem. Now, you can feel confident you are giving someone exactly what they want. That feeling is priceless."
In addition, MonkeyWish.com strives to be "all about giving" and they are leading by example. The Gainesville, Florida-based company is deeply involved in the charitable community. Currently, a portion of MonkeyWish.com's proceeds benefit The Tim Tebow Foundation.
"What an honor to be in a position to give back in a big way," Taylor said. "Along this journey, there have been so many people that invested their time helping me. I look forward to helping others by sharing my knowledge and encouraging them to believe in themselves, because we are all capable of so much."
For more information on MonkeyWish.com or to become a member, visit http://www.MonkeyWish.com. You can find them on Twitter @Monkey_Wish and @TheKristiTaylor.