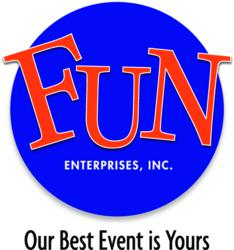 I highly recommend AC and her organization as one of my most reliable and favorite vendors!
Boston, MA (PRWEB) July 26, 2012
Fun Enterprises, Inc.'s AC Anders is the top meeting professional in New England after winning the supplier category award from the New England chapter of Meeting Professionals International. AC is the event specialist and event producer at Fun, and received glowing recommendations from many professionals with whom she has worked.
The Meeting Professional of the Year award is presented annually to a member of MPI in recognition of outstanding association/industry contributions, leadership and professionalism. The award recognizes a career of involvement, commitment and achievement.
One person nominating AC described her as "friendly, helpful, thoughtful, service oriented and a pleasure to work with. She has great integrity and feels very strongly about customer service. I highly recommend AC and her organization as one of my most reliable and favorite vendors!"
Another event professional said, "I have worked with AC on many events and always found her to be professional, energized, and always builds an excellent rapport with people. She is amazing to work with as a vendor, and I look forward to partnering with her and her team on my events."
Fun Enterprises, Inc. provides unique, quality entertainment for the corporate, educational and private event markets nationwide. They carefully coordinate all programs for continuity before, during and after an event. Their experienced staff understands that every client deserves attention to detail to make their event first class. That's why they are a part of over 1,000 events every year.
Fun Enterprises, Inc. is also the exclusive booking agent for Michael Miller. Michael is the inspirational speaker who possesses a rare blend of knowledge, passion, enthusiasm and the ability to focus and inspire any group, from the CEO to the newest intern. See Michael in action here.
Whether it's planning a corporate retreat, training session or a major event for thousands, Fun Enterprises, Inc. is the resource for success.