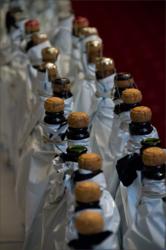 Our goal as a business is to reward genuine winemaking talent, not marketing budget
(PRWEB UK) 26 July 2012
Hundreds of UK wine drinkers have awarded an unknown French winemaker a permanent UK listing and an upfront £50,000 order in the latest round of Naked Wines' $1million Zero to Hero Winemaker Competition, a consumer-powered competition launched to unearth the world's most talented, undiscovered winemakers.
Henri Forest, a winemaker based near Carcassonne, entered the free Naked Wines' competition with his Le Clos de L'Olivier Minervois 2010 – and saw off over 240 wines from across France to win a consumer tasting and online customer vote. The Shiraz, Grenache blend, described by one of the judges as "Dark fruits, aniseed, honey and smoked loveliness - ruddy marvellous," is now retailing for £9.99 for Angels at Naked Wines.
Talking of his win, Henri said:
"This is a great day for Domaine Villepeyroux-Forest. Thanks to hundreds of UK wine drinkers who singled out our wine, we will be living our dream and exporting to the UK for the first time. We very much look forward to working with Naked Wines and growing our business with Angel funding."
Rowan Gormley, Founder and CEO of Naked Wines, explained:
"Our goal as a business is to reward genuine winemaking talent, not marketing budget, as there are thousands of top-drawer producers whose wines never make our shores because they don't have the means to do so. Zero to Hero puts every winemaker who enters on a level playing field, as they're judged by the juice inside the bottle alone, rather than the size of their wallet – and by hundreds of normal, everyday wine drinkers, rather than a handful of experts or critics.
From everything we've learnt to date, consumer reviews are an incredibly powerful force and are worth ten times any marketing spiel or tasting note when it comes to picking out the gems – and our Angels have come up trumps with Henri's Minervois."
The global competition, supported by UBIFrance, consists of six preliminary rounds including wines from France, the UK, Spain, Chile, Argentina and Australia - culminating in a grand finale in November, with a $500K investment fund awarded to the overall winner.
Consumers can apply to be a judge at http://www.facebook.com/nakedwines, where they'll also be entered into a prize-draw to win an all-expenses-paid, round-the-world trip to the six winning vineyards, worth £50K.
To chat to Henri about his win and to find out more about his winning Minervois, visit http://www.nakedwines.com/henriforest