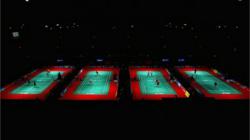 A unique music programme called 'Rock the Games' will feature live performances and exclusive new recorded tracks from various artists during the Olympic Game
(PRWEB) July 25, 2012
Spectators attending the London 2012 Games will be treated to a programme of innovative sports presentation including music, films and presenters.
Entertainment programme
A unique music programme called 'Rock the Games' will feature live performances and exclusive new recorded tracks from various artists during the Olympic Games. Five official songs have been composed led by chart-topping band Muse, whose track 'Survival' will be played at various sport sessions. The other four official songs are by Elton John vs Pnau, Delphic, Chemical Brothers and Dizzee Rascal.
Elsewhere, Scissor Sisters and Rizzle Kicks are just two of the artists that are set to play surprise gigs at Olympic venues. There will also be exciting performances from military marching bands and cheerleaders and dancers including the English National Ballet, as well as sport demonstration shows.
A music library of 2,012 songs with five music themes – energy, primetime, extreme, heritage and world stage – has been compiled and will be used during the Games.
Bringing the action to life
Films will be shown before each session to give spectators an overview of the sport in a dynamic and engaging way.
The spotlight will be on athletes with the help of theatrical lighting in sports such as Fencing and Judo which will add to the atmosphere in venues.
All venues will also have presenters acting as anchors, guiding the spectators through all the key sporting elements. There will be a mixture of established presenters including Ben Shephard and Gethin Jones, as well as up-and-coming talent such as Aissetou N'gom.
A number of venues will also have in-ear commentary radios available, giving access to live expert analysis of the competition.
For further information please contact the London 2012 Press Office.
###