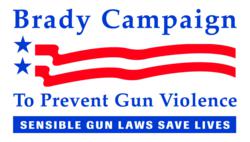 Washington, DC (PRWEB) July 25, 2012
Brady President Dan Gross will appear tonight on The Colbert Report to discuss gun control in the wake of the Aurora, CO shooting massacre. The Colbert Report airs at 11:30 pm EST/10:30 CST on Comedy Central.
The Brady Campaign this week released a new campaign and website, WeAreBetterThanThis, to inspire Americans to pressure our leaders to start a national conversation on how we can prevent gun deaths and injuries.
###
The Brady Campaign is the nation's largest citizens' lobby to prevent gun violence. We represent the voice of the overwhelming majority of Americans who are tired of living with the constant tragedy of gun violence and are in favor of strong laws and policies that will save lives. We are the light that exposes politicians who are putting the American people at risk, empowering the American people to hold them accountable for decisions and actions that undermine public safety.
We are driven by the focused vision of a nation where all Americans are safe at home, at work, at school, and in our communities.
Dan Gross is the President of the Brady Campaign and the Brady Center to Prevent Gun Violence. A photo and more information about Dan Gross is available here.
For more insight on gun violence prevention, follow The Brady Blog, Facebook Page and Twitter Account.