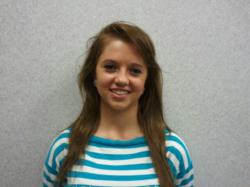 "It has been a dream of mine to go to Ferris State University; being awarded this scholarship will be one more big step in that direction." - Rebecca Cameron
Brighton, Michigan (PRWEB) July 25, 2012
Lake Trust Credit Union has awarded Michigan high school student and Credit Union member, Rebecca Cameron, a $500 College Scholarship, through the organization's Lake to Lake Michigan Scholarship Program.
The Program provides financial assistance to three high school students seeking a higher level of education.
Cameron exemplifies many of the principles that Lake Trust looks for in its scholarship recipients: Trust, Teamwork, Adaptability, Learning, and Making a Difference; which are the organization's core values.
Throughout high school, Cameron has been involved in many extra-curricular activities such as Business Professionals of America and has been involved in community service, as well as SADD.
Cameron will attend Ferris State University for Pharmacology in the fall.
"This scholarship will benefit me in a lot of ways," said Cameron. "It has been a dream of mine to go to Ferris State University and being awarded this scholarship will be one more big step in that direction."
Nicole Piche, Student Program Specialist at Lake Trust, appreciates the opportunity to assist these students.
"Rebecca is very deserving of this award and I'm thankful we're able to help provide this opportunity to her and others," says Piche. "We're committed to supporting our members' desire to attain a higher education."
Visit the The CU Scoop to learn more about Lake Trust's student resources.
Lake Trust Credit Union, Michigan's fourth largest credit union and headquartered in Lansing, stretches from Lake Michigan to Lake Huron and Lake Erie. With over $1.5 billion in assets and 21 branches, Lake Trust provides its almost 156,000 members best-in-class products and offers individualized, trust-based member service. Membership is open to anyone within its 35-county service area. Learn more about Lake Trust Credit Union at laketrust.org.
Follow Lake Trust Credit Union on Twitter at http://twitter.com/lake_trustcu
###