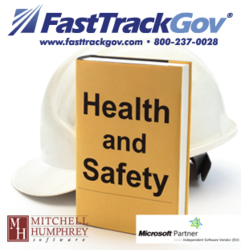 The software really does it all for you.
St. Louis, MO (PRWEB) July 30, 2012
The National Environmental Health Association (NEHA), with 5,000 members across the country and internationally, held their 76th Annual Educational Conference in San Diego, California at the end of June.
Each year, the organization works directly with health professionals to improve the environment of cities, towns, and rural areas. Mitchell Humphrey, for the first time at this conference, exhibited its suite of web-based FastTrackGov® solutions and focused on applications to centralize Public Health processes. "Several officials came to the Mitchell Humphrey booth to learn about FastTrackGov. Everyone was professional and extremely focused on improving the lives of the citizens in their communities. It was nice to see the level of interest they displayed with each vendor," commented Nancy Brady, Account Executive at Mitchell Humphrey.
As a Microsoft® Silver ISV, Mitchell Humphrey built FastTrackGov on a Microsoft® Dynamics CRM platform. The FastTrackGov suite is designed to better manage the risks of state and local health departments. Constructed to streamline the entry, processing, and retrieval of required data and information, Mitchell Humphrey's FastTrackGov on-line permitting applications cover a wide range of community development processes. It automates all of the data for daycares, massage parlors, hair salons, public pools, special events, home businesses, resident care facilities, restaurants, outdoor food vendors, and other businesses. "Everything is automatic and effortless with this application. It makes it easy for governmental organizations because there's no manual process with inspection scheduling, violation notifications, and fee computations. The software really does it all for you. Plus, many of the NEHA attendees were surprised with the efficiency and how their internal team could really benefit on the back end," stated Brady.
Approximately 1,500 Environmental Health professionals attend this annual conference to discuss environmental health topics such as water quality, food safety and defense, healthy homes and communities, environmental health impact assessments, sustainability/climate change, and general environmental health. Since a majority of NEHA members are employed by state and local Health departments, these solutions were intended to help them better enforce regulations, track violation requests and complaints, and issues permits. "It's apparent that FastTrackGov Public Health Solutions are the perfect fit for these health professionals. I was very excited to assist the Health Department Officials by demonstrating solutions for better citizen services," stated Brady.
To find out more about how FastTrackGov's solutions will provide your citizens with exceptional public services and health processes, join one of the environmental health webcasts. More information about FastTrackGov can be found at http://www.fasttrackgov.com.
About Mitchell Humphrey
Since 1977, Mitchell Humphrey has been providing software and services to clients in both the public and private sectors. Today, clients across North America benefit from our solutions in citizen services, accounting, human resources/payroll, community development, and cashiering.