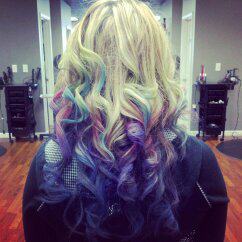 Up and Coming hair trend: Hair Chalking!
Tewksbury, MA (PRWEB) July 25, 2012
Fresh Looks Salon, a full service beauty and hair salon, employs experienced stylists and salon hairdressers to keep Tewksbury customers up-to-date with the very latest fashion and beauty trends. This locally owned and operated salon offers patrons a full range of services including hair care for children and adults, skin care, Xtreme eyelash and hair extensions, full body waxing, makeup application and bridal and wedding styling. Fresh Looks Salon is now offering innovative solutions in professional short-term hair coloring.
Behind the salon's façade, Kerry Bullis and Delana Wentzell busy themselves with streaking clients' manes using what looks like a cross between sidewalk chalk and pastel sticks. Termed, "hair chalking," this temporary flash of vibrant hair color is fast becoming a trend for Summer 2012. With the full spectrum of primary and secondary colors available, clients can choose a single color on a small strand of hair or a variety of colors interwoven throughout their locks. The color washes out instantly, leaving no trace for Monday morning office duty.
Fresh Looks Salon stylists can also brush ColorMe temporary hair color formula over light or dark hair without any initial bleach preparation. After application, they simply blow-dry hair, then style with or without heat tools. As with "hair chalking," customers can remove ColorMe streaks in one washing (more may be needed for color-treated hair). Fresh Looks Salon also stocks ColorMe formulas for take-home purchase. For medium-length hair, one ColorMe tube allots around 15-20 color streaks.
With a wide array of services designed to meet the needs of each individual client, a clean and comfortable environment, and a professional staff trained to stay ahead of the curve in all areas of beauty and fashion, Fresh Looks Salon intends to continuously bring cutting edge style to Tewksbury.
About the company:
Fresh Looks Salon located on 1830 Main Street in Tewksbury, MA is a locally owned and operated Full Service Beauty Salon in Tewksbury, MA. They specialize in hair care, skin care, Xtreme eyelash extensions and hair extensions. We also offer full body waxing, makeup tips and appication, and hair styling for children. For more information visit their website at http://www.tewksburysalonspanails.com.