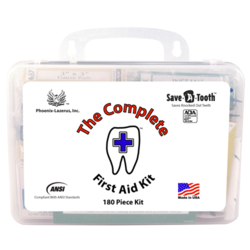 BestCovery.com selects "The Complete First Aid Kit" with the Save-A-Tooth® system as the best first aid kit.
Wayne, Pa (PRWEB) July 26, 2012
BestCovery.com recommends that every home, workplace, automobile and team sports team bag should have a well-stocked first aid kit like the Complete First Aid kit. Most leading medical institutions recommend that a well-stocked first aid kit should include a device, like the Save-A-Tooth® system, in it.
Accidents happen all the time and some are more damaging than others. One of the more serious accidents that can occur is knocked out teeth. There are over five million teeth knocked out each year in the United States and Canada and over 90% can be saved for life if there is proper preparation. The cost of not being prepared for storing and preserving knocked out teeth is $3,000-4,000 initially and $30,000 over a lifetime.
The proper preparation is to have a Save-A-Tooth® system in a first aid kit. These kits should be at home, at schools, camps, sports team bags and in hospital emergency rooms. This is because in order to give the best chance for saving knocked out teeth, it must be placed in a nutritionally enriched and protective environment within 60 minutes of the accident. This leaves no time to run out and look for one. Once placed in a Save-A-Tooth®, knocked out teeth are preserved and protected for 24 hours until they can be re-implanted by a dentist.
The Save-A-Tooth® system is so advanced that it is used to transport teeth that contain valuable dental stem cells in the Store-A-Tooth cryopreservation system. It was discovered several years ago that there are valuable stem cells in normally shedding baby teeth and extracted wisdom teeth. These cells can be cryopreserved and stored for years and then thawed and possibly used to treat medical or dental illnesses. Until recently, only umbilical cord blood stem cells could serve this purpose. However, obtaining the umbilical cord blood is very technique and time sensitive as well as being very expensive.
The Complete First Aid kit is far more advanced than any other first aid kit. Not only does it have the Save-A-Tooth® system but also it has many components that other first aid kits don't have like a glow light and special CPR mouth resuscitator.
"Most other first aid kits are just a bunch of adhesive bandages and cheap foreign gauze," says Dr. Henry Rankow, Professor of Dentistry and Temple University School of Dentistry. "The Complete First Aid kit is a well thought out kit that contains all of the components that are necessary to treat minor accidents, he emphasizes."
About the company:
Phoenix-Lazerus, Inc. manufactures and distributes the Save-A-Tooth® system and the Complete First Aid kit. It has been in business since 2001 and is dedicated to producing products completely made in the USA with 100% USA-made parts. It is also the tooth transportation system in the Store-A-Tooth system, the leading transporter and cryogenic storage system for dental stem cells.