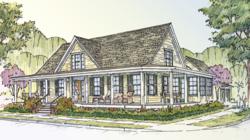 "Steel carriage house doors are a smart alternative to wood doors because they won't rot, warp or crack," says Clopay's Pat Lohse.
Cincinnati, OH (PRWEB) July 27, 2012
Clopay Coachman® Collection carriage-house style garage doors are featured on the Southern Living 2012 Idea House, a renovated 1830s farmhouse located in Senoia, Ga.
The home plan is an innovative blend of regional historic cottage style with a few contemporary additions suited to living in the 21st century, including an attached two-car garage with a complete guest suite located above.
The architect chose Clopay's insulated 4-layer steel and composite Coachman Collection garage doors with insulated rectangular windows and an "A" frame panel design to complement the clean lines and rustic architectural style.
The Coachman Collection mixes old world charm with modern technology to provide a low-maintenance alternative to wood carriage house style garage doors.
Although the barn-style garage doors appear to swing open, they operate with the modern convenience of a LiftMaster Model 8550 opener.
"Steel carriage house doors are a popular alternative to traditional wood doors because they are durable, insulated and won't rot, warp or crack, eliminating the ongoing surface maintenance wood doors require," says Pat Lohse, Clopay's vice president of residential marketing.
Fifteen models with optional windows, decorative hardware and four paint colors are available to complement a variety of architectural styles.
Polyurethane insulation is foam injected between two steel skins, providing an R-value of 18.4 to help improve the energy efficiency and comfort of the living space above the garage.
Coachman Collection doors are available with Clopay's built-in WindCode® reinforcement system for homes located in coastal and high wind areas.
The Southern Living 2012 Idea House is expected to draw 40,000 visitors from across the country to tour the home, which is open to the public now through December 23, 2012.
Located 25 miles from Atlanta, Senoia's main street looks like a scene out of "Driving Miss Daisy" – because it actually was. The town doubles as a back lot for popular film and TV projects including the classic "Fried Green Tomatoes" and AMC's current television hit, "The Walking Dead."
A portion of the proceeds from the home tour ticket sales will be donated to Camp Southern Ground, the charitable partner for the 2012 Idea House.
Zac Brown, of the GRAMMY award-winning Zac Brown Band, donated a 500-acre piece of property south of Atlanta to build a summer camp for children ages 7 -17 with typical and special needs.
A feature article about the project will appear in the August 2012 issue of Southern Living magazine. Get more information or visit the home.
About Clopay
With three manufacturing facilities and 51 distribution centers across the U.S. and Canada, Clopay Building Products is North America's leading manufacturer of residential garage doors and a preferred supplier of commercial overhead sectional and rolling steel doors.
Bringing nearly 50 years of experience and innovation to the building products industry, the company maintains a strong family of brands including Clopay®, Holmes Garage Door Company® and IDEAL Door®. Since 1996, Clopay is the only residential garage door brand to earn the Good Housekeeping Seal.
In 2010, the company launched fiberglass and steel entry door lines to complement its popular residential garage door styles. Today, Clopay is the only manufacturer in the industry to offer homeowners the option to coordinate the appearance of the two most important entrances to their home: the front door and the garage.