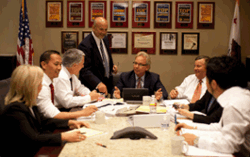 I recommend UIM coverage to everyone. The expenses that can result from serious injury auto collisions can be enormous.
Newport Beach, CA (PRWEB) July 27, 2012
The Orange County lawyers at Bisnar | Chase recently recovered an additional $15,000 for a man who was injured in a rear-end car accident caused by an underinsured driver. Carl of Palmdale, California suffered injuries in a traffic collision and was left with thousands of dollars in medical bills. The person who was responsible for the collision did not have enough insurance to cover Carl's medical expenses.
The $15,000 recovered by Bisnar | Chase attorneys was only one portion of the total settlement Carl received. Had he not purchased UIM coverage prior to his collision, his attorneys would have not have had an opportunity to obtain the additional $15,000.
UIM coverage stands for uninsured, or underinsured, motorist coverage. It is a form of coverage offered by most auto insurance providers that allows reimbursement in the event of a collision with a driver who does not have insurance or sufficient insurance to cover the victim's medical expenses, lost income, or pain and suffering.
According to the Insurance Research Council's (IRC) news release, one in seven United States drivers are estimated to be uninsured. 2009 estimates show that 15 percent of California drivers were uninsured.
John Bisnar, Bisnar | Chase car accident attorney, has helped more than 6,000 injury victims. Mr. Bisnar has helped untold numbers of people better understand their auto insurance policies and is a firm advocate for UIM Coverage.
"A significant number of drivers on the road today carry just enough insurance to comply with the minimum insurance coverage laws of California. If one of these drivers were to strike your vehicle and you had not obtained UIM coverage, you may not be able to obtain full compensation for your medical expenses that were directly related to your collision."
"I recommend UIM coverage to everyone. The expenses that can result from serious injury auto collisions can be enormous. Putting people in a position to make proactive choices and ensure that their families are able to afford proper medical care in the event of an emergency is one of our top priorities." Says Mr. Bisnar.
About: Bisnar | Chase Personal Injury Lawyers Orange County
Bisnar | Chase is a California based car accident law firm. Since 1978, their trusted legal professionals have developed a history of outstanding results for thousands of injury victims. Bisnar | Chase has been featured on several popular media programs including Fox 11, NBC, and ABC.
Bisnar | Chase lawyers assist car accident victims throughout California and provide free legal consultations with no obligation.
Call 800-561-4887 to speak with an experienced legal professional or visit http://www.bestattorney.com