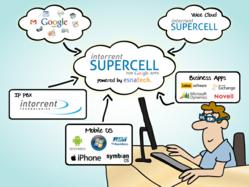 Intorrent Supercell for Google Apps, powered by Esnatech, converges mobile functionality, business software, and Cloud applications, including the full Google Apps service suite, with an already robust VoIP feature set.
ALPHARETTA, Ga. and RICHMOND HILL, Ontario (PRWEB) July 31, 2012
Intorrent Technologies, a developer of Asterisk-based Voice over IP (VoIP) business phone solutions, and Esna Technologies (Esnatech), a leader in cloud-enabled communications and collaboration solutions have announced a partnership to integrate their market-leading products into a rich communications platform. Intorrent will add Esnatech's award-winning Office-LinX solution to its feature-rich, hosted offering, Intorrent Supercell, enabling a convergence of mobile functionality, business software, and Cloud applications, including the full Google Apps service suite.
The enhanced solution, Intorrent Supercell for Google Apps, powered by Esnatech, bolsters Intorrent's already robust VoIP feature set with essential hosted app functionality. Intorrent Supercell for Google Apps, an open source solution, is flexible and scalable; companies can add or subtract phones, lines and locations at any time. The services are unbundled with no long-term contracts.
Intorrent's principals and Esnatech's management team have worked together for more than 15 years, developing industry-leading voice solutions from legacy PBX integrations, unified communications and automated attendant/speech recognition offerings. Intorrent Supercell for Google Apps is their first co-branded, collaborative business solution.
"Esnatech functionality is essential to the new value proposition of Intorrent's VoIP communications solutions," said Darrell Hensley, managing member of Intorrent. "As our offering and customers increasingly move to the Cloud, benefits like Google Apps integration will drive purchasing decisions as much as our innovative phone feature set."
"Our strong relationship with Intorrent provided a great foundation for this co-branded effort," said Davide Petramala, Esnatech's executive vice president of sales and business development. "Enterprises are looking for communication solutions that integrate seamlessly with Google Apps and other cloud-based tools. Intorrent Supercell, powered by Esnatech, delivers a rich feature set that drives productivity and bottom-line value."
Intorrent Supercell Unified Communications and Apps Features:

Receive and respond to any message (e-mail, voice and fax) on any device, any time leveraging rich, unified messaging
Integrate enterprise communications infrastructure such as phone systems with Cloud and SaaS-based business applications such as Google Apps and Salesforce
Find-me, follow-me, single-number reach applications
Mobile device integration to corporate phone system
FMC (Fixed-to-Mobile convergence) support for mobile devices, softphones, deskphones and smart devices
Text-to-speech for reading back e-mail over the phone
Robust desktop and mobile capabilities that include instant messaging, presence, call control, fax, and click-to-dial in any desktop or cloud/web-based business application
Rich federated presence across mobile/fixed line devices, and multiple business applications including Google Talk, Skype, Salesforce.com and Microsoft OCS
High availability and active redundancy leverages VMware vSphere to ensure scalable and always available UC services
Intorrent Supercell IP PBX Features:
»» Polycom, Yealink, Cisco, and others
»» Function keys: busy lamps, speed dial, login, etc.
»» Programmable caller ID

»» Call center functionality
»» Queues, caller experience options
»» Agents: login, pause, multiple queues, priority
»» Supervisors: listen, whisper, barge-in
»» Reporting: historical, real-time

Call recording: on-demand, full-time
Meet-me conference rooms
Call reporting
About Intorrent Technologies
Intorrent Technologies specializes in Asterisk-based VoIP deployments for small- and medium-sized businesses, as well as multi-location enterprises. Cloud, premise or hybrid, Intorrent's solutions and expertise helps companies from any industry optimize their communications and lower costs. Visit http://www.intorrent.com for more information on the simple way to do VoIP.
About Esnatech
Esnatech is a global leader in cloud-enabled communication and collaboration solutions. Esnatech integrates cloud and mobile communications on any device and with business applications from Google, VMware, Microsoft and Salesforce.com and more giving millions of information workers the freedom to choose how, when and where they communicate and collaborate with one another. Thousands of organizations across the globe have increased productivity, improved collaboration and reduced communication costs with Esnatech. For more information, visit http://www.esnatech.com.