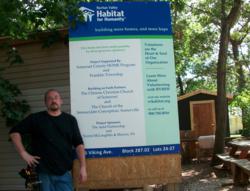 Cranford, NJ (PRWEB) July 26, 2012
WriteResult, leading provider of clinical data management solutions, announced that the company's Technical Lead has volunteered to help the Raritan Valley Habitat for Humanity cause. Every Wednesday for the next 6-12 months, Leon Leybs will be joining other volunteers in Somerset, New Jersey to assist in the building of a home for a deserving family.
As Technical Lead for WriteResult, Leon is no stranger to assisting people all over the world. He carries his desire to help people to his work with the Habitat for Humanity organization. The volunteer worked on various projects, including the foundation layout and installation of the floor joists. Leon is looking forward to working on all aspects of home building, including framing, roofing, plumbing, electrical work, and all of the finishing touches like painting and landscaping. "I've always enjoyed working with my hands, but never had the space or the opportunity", said Leon Leybs. "Volunteering for Habitat for Humanity is giving me all of the tools and materials I need to be able to do so. I'm thrilled to be able to give back to the community, plus it's a great way to learn new skills and meet new people".
Leon is excited to be a part of such a worthy cause and is looking forward to seeing the project through to the very end.
About Habitat of Humanity
Habitat of Humanity International was founded in 1976 by Millard and Linda Fuller. Through the work of Habitat, thousands of low-income families have found new hope in form of affordable housing. Churches, community groups and others have joined together to successfully tackle a significant social problem—decent housing for all. Today, Habitat for Humanity has built more than 500,000 houses, sheltering 2.5 million people worldwide.
For more information about Habitat for Humanity, please visit http://www.habitat.org/.
About WriteResult
WriteResult offers full-service data management solutions for clinical research through the collection and verification of ePROs leveraging digital pen and paper technology. Since 2006 WriteResult has partnered with study sponsors to deliver a simple and effective ePRO solution — rapid study startup with clean, real-time data using a technology that's intuitive for sites and patients.
For more information about WriteResult, please email solutions(at)writeresult(dot)com or call (908) 272-4787.