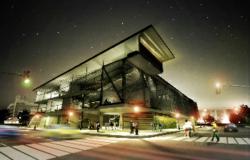 San Diego, Calif. (PRWEB) July 27, 2012
Two NewSchool of Architecture and Design (NSAD) teams received honorable mentions in the 2011–2012 ACSA/AISC Steel Design Student Competition. Their noteworthy designs of a hypothetical culinary arts college in San Diego placed them in the top 2% of more than 300 designs submitted nationally.
The 12th annual Steel Design Student Competition is administered by the Association of Collegiate Schools of Architecture (ACSA) and sponsored by the American Institute of Steel Construction (AISC). NSAD students competed in the culinary arts college category, one of two competition categories. At NSAD, the competition effort was organized by Luisa Schultz, third year architecture program undergraduate coordinator, along with the class instructors.
"Students in our third year architecture undergraduate program are tasked with integrating innovative steel structural designs with contemporary buildings and urban settings, so this competition is aligned very closely with our learning objectives," said Schultz.
The two NSAD teams and designs recognized in the Culinary Arts College category were:
Culinary Arts Institute of San Diego design by NSAD students Michael Knowlton, Forest Agnew and Daniel Botten: This 32,000-square-foot campus is inspired by the concept of movement, in particular as it relates to fast-paced kitchen environments. The structure has a double-skin system consisting of steel structural members, translucent curtain wall facades and an eight-inch, perforated copper skin. This system is prefabricated off-site in 16-by-16-foot units to allow for reasonable construction cost and to reduce overall time of construction. Sustainable building systems include a hydroponic system, a recycled water replenishment system, an air filtration system, an exposed vertical atrium and an adequate ventilation wall treatment for proper air distribution. Hypothetical location: Located in the heart of Little Italy, San Diego, in the corner of Beech Street and Kettner Boulevard
San Diego School of Culinary Arts design by Kyle Duvernay, Ian Patzke and Siah Afrasiabi: The building integrates recyclable steel train truss bridges as part of the structural components, making the building an example of adaptive reuse possibilities and green design. Trusses form part of a long-span structure, and the building includes a rooftop garden to grow herbs, as well as a double skin to control lighting. A continuous ribbon that transforms from a double-skin system into the walls, floors and façade is meant to reflect the priorities of efficiency and circulation in the culinary industry. Hypothetical location: San Diego's East Village, between 13th Street and 14th Avenue, and G Street and Market Street, near the main NSAD campus.
The ACSA/AISC Steel Design Student Competition challenges students to explore a wide range of design issues related to the use of steel in design and construction. In order to qualify for the competition, designs must incorporate steel as the primary structural material, with a special emphasis on innovation in steel design. Other NSAD instructors who supported the student efforts were Philip Bona, Andrew Duncan, John Kanakaris, Hussein Munaim, Leigh Ann Pfeiffer and Ruediger Thierhoff.
In other recent competitions, a team of NSAD students won the MCM Group Mock Firms International Skyscraper Award, the highest honor in the international Mock Firms Competition collegiate division. A team of NSAD students also won the award for "Most Adaptable Structure" at the 2012 Cal Poly Design Village competition in San Luis Obispo.
About NewSchool of Architecture and Design
NewSchool of Architecture and Design (NSAD), founded in 1980, is located in San Diego, California. NSAD is accredited by the Accrediting Council for Independent Colleges and Schools (ACICS). ACICS is listed as a nationally recognized accrediting agency by the U.S. Department of Education and the Council for Higher Education Accreditation. NSAD's Bachelor of Architecture, Master of Architecture and Executive Master of Architecture programs are accredited by the National Architectural Accrediting Board (NAAB). NSAD also offers a pre-professional Bachelor of Arts in Architecture, a Bachelor of Science in Digital Media Arts, a Bachelor of Science in Construction Management, a Bachelor of Landscape Architecture, a Master of Landscape Architecture, a Master of Construction Management and a Master of Science in Architecture. NSAD was ranked among the top 10 undergraduate architecture schools in the western United States, according to the DesignIntelligence report "America's Best Architecture & Design Schools 2012." For more information, visit http://www.NewSchoolArch.edu.