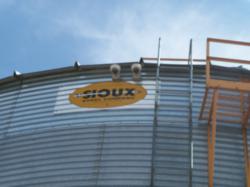 IP video also offers ease-of-use, scalability, flexibility, and operational efficiencies which can provide a significant return on investment for many years into the future.
San Juan Capistrano, California (PRWEB) July 25, 2012
IQinVision (http://www.iqeye.com), market leader in high-performance HD megapixel IP cameras, today announced that a large agricultural operation in central South Dakota has deployed an advanced IP surveillance system, powered by IQinVision HD megapixel cameras and Milestone network video management software. Dakota Security Systems designed and installed the IP video and wireless mesh systems and provides continued technical support.
The owner of the farming operation does not live onsite with the buildings and equipment, and while this operation has not experienced any major problems with vandalism or theft in the past, the owner knew he needed a solution that would allow him to be prepared for any trouble that may occur in the future.
Previously, the farm had employed an analog surveillance system that could only be viewed from a local TV monitor and did not offer benefits such as high resolution images, remote access, flexibility, scalability, and ease of use. Having the old analog system was described as a learning experience, since the owner was never able to get support for the equipment and after a power surge, the system never recovered and lost its value quickly.
To accomplish his goal of remotely monitoring and managing the safety and security of this agricultural operation in a rural setting, the owner turned to Dakota Security Systems for assistance. Based on Dakota's recommendations, the owner decided to deploy an IP video surveillance system consisting of two IQeye high definition (HD) indoor dome cameras and 12 HD IQeye exterior dome cameras. All cameras are managed by Milestone XProtect® IP video software from the farm's central shop office. Surveillance footage is set to record and be stored for a minimum of 30 days at 6 fps.
Seven of the exterior cameras are connected remotely by a wireless mesh network, which transmits the images from a section of the farm nearly 4000 feet away. The Tropos Networks' wireless infrastructure not only transmits the IQeye images to be recorded, it also provides secure wireless Internet access at broadband speeds throughout the main property and at the original homestead located nearly one mile away.
Having an IP video system allows the farm owner to connect remotely to the cameras and view live or recorded surveillance footage from his laptop, smart phone, or tablet device. The ability to connect remotely to the surveillance system gives the owner valuable peace of mind while travelling, since he can now monitor his buildings, equipment, and operations from anywhere in the world with an Internet or cellular connection.
Having secure wireless internet access can also provide many benefits beyond surveillance to a modern day agricultural operation. The owner can now record all of his chemical application notes into his laptop and email the paperwork from the field. The farm agronomist is also able to record all of his notes and have them uploaded directly from the field. Having instant information and communications can improve the speed and efficiency for this enterprise.
IP video, powered by IQinVision, Milestone Systems, and Tropos Networks, provides the owner with the ability to remotely monitor and manage the safety and security of his agricultural operation. IP video also offers ease-of-use, scalability, flexibility, and operational efficiencies which can provide a significant return on investment for many years into the future. The farm owner also sees many future benefits from having a connected farm operation, including bin and fuel storage monitoring, among others.
About IQinVision
IQinVision has been designing, manufacturing and marketing the IQeye line of HD megapixel IP cameras since 1998. A world leader in IP network camera products, IQinVision is renowned for image quality, stability and reliability in the harshest environments. ONVIF and PSIA compliant, IQeye cameras are integrated with all leading NVRs and are backed by the most comprehensive warranty program in the industry. The company's products are widely deployed in banking/finance, city surveillance, commercial/industrial, critical infrastructure, education, gaming, government/law enforcement, healthcare, retail and transportation applications. IQinVision is a privately-held corporation headquartered in San Juan Capistrano, California with a regional office in Amsterdam, the Netherlands. For more information: http://www.iqeye.com
For Media Queries:
Bruce J. Doneff
Public Relations
843.476.3022
bruce.doneff(at)iqeye(dot)com
For IQinVision:
Wendi Burke
Director, Global Marketing Communications
949.369.8100
wendi.burke(at)iqeye(dot)com
###