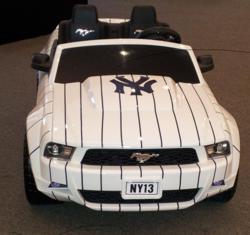 When approached by Leyritz to help the Wounded Warriors I was immediately excited
Harrison, NY (PRWEB) July 26, 2012
Former New York Yankee catcher and two time World Series Champion Jim Leyritz, has teamed up with CEO Steven Anello of React Financial and United Ink's Lou Rubino to raise money for the Wounded Warriors. After spending a weekend with Terry "Crash" Allvord, founder of the U.S. Military All Stars baseball team, Leyritz felt the need to step up to the plate for the Wounded Warriors. Using his position as the National spokesperson for React Financial, Leyritz approached Anello where they devised a fundraising strategy. "When approached by Leyritz to help the Wounded Warriors I was immediately excited," Stated Anello, "My first thought was to get in front of a lot of people and hold an auction or a raffle of some type." Jumping into action, Anello reached out to the owners of United Ink and requested a meeting where they would discuss using the upcoming tattoo convention as a platform to raise money for the Wounded Warriors. Upon hearing the cause, Rubino President of United Ink was quick to provide a premium vendor site for a raffle. Anello then obtained a children's electric car modeled after the Ford Mustang convertible, created by renowned auto body specialist John Iodice of Reimann Auto Body of White Plains. This is no ordinary kid's toy, as this replica vehicle has been custom painted in full Yankee pinstripes. "Besides my autograph, I will be circulating this unique vehicle throughout as many past and present Yankee players to sign," states Leyritz. Of course this replica is also adorned with Leyritz's lucky number 13. Leyritz further stated," This is a special piece with a more special cause, our Veterans." In addition, Leyritz has secured many great articles of memorabilia for the raffle. React Financial will donate 100% of the proceeds of the raffled items directly to the Wounded Warriors.
For those interested in supporting our Wounded Warriors, the convention and raffle will be held Friday July 27 thru Sunday July 29 at the Nassau Veterans `Memorial Coliseum." I can't think of a better venue than The Nassau Veterans Memorial Coliseum for such an event, since the building was dedicated to those who had made the supreme sacrifice for their country" stated Rubino.
React Financial has successfully gained a reputation for delivering fast and innovative debt solutions for struggling Americans. "Our entire business model centers around helping people, by providing financial solutions for those who need it most. Helping the Wounded Warriors is a natural fit for us," says Anello.
React Financial is headquartered at 7 Purdy Street, Harrison, New York. For more information regarding React Financial debt settlement programs, visit us at http://www.reactfinancial.com . React Financial may be reached toll free at 888-809-5186.