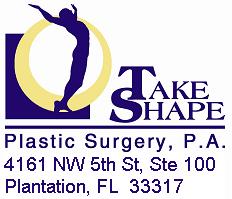 "People will only put off personal improvement for so long. With inevitable job changes for a significant segment of the population, everyone needs to be at the top of their game."
Fort Lauderdale, Florida (PRWEB) July 26, 2012
Conveniently located in Fort Lauderdale, Florida, Take Shape Plastic Surgery, PA is at one of the epicenters of plastic surgery in the United States. Coupled with the fact that plastic surgery is often cheaper in this part of the country, it is no wonder that patients fly in from New York and Los Angeles to take advantage of their superior services
The question today is the impact of the economy on the profession. Will elective surgery and less invasive procedures take a back seat during these tough economic times?
According to Take Shape board-certified plastic surgeon, Russell F Sassani, MD "people will only put off personal improvement for so long. With inevitable job changes for a significant segment of the population, everyone needs to be at the top of their game." Still now more than ever we are seeing a value driven economy where no one is spending flippantly. The exceptional quality of their services sets Take Shape Plastic Surgery PA apart from others in the field. They are seeing this with patient procedures that continue to be on the rise.
Patients also choose to "take shape" with them because they are one of the few to have an on-site Medicare-certified, state-licensed and nationally-accredited ambulatory surgical center. From the minute their patients step in the door, they receive complete personal and attentive care from beginning to end. In fact, the advantages of ambulatory surgical centers over hospitals has been proven. Between 1996 and 2006, the CDC's Center for Health Statistics conducted their National Survey of Ambulatory Surgery. In their findings their data showed that ambulatory surgical centers are faster, charge less and use less anesthesia and more IV's than hospitals ("Report: Nimbler ASC's Win Cases From Hospitals." Outpatient Surgery Magazine, April 2009).
From breast enlargements and face neck and eyelid lifts to breast reduction, tummy tucks and liposuction, they offer a wide range of services to help their patients "take shape." They also offer many less invasive procedures at lower cost. These range from injectables such as Botox®, Sculptra®, Jiuvederm®, Radiesse® or Restylane® to minor surgeries.
Spider vein removal is available, as are microdermabrasion, chemical peels, CO2 lasering, and the OBAGI skin care line. Laser Hair removal is often done for the nape of the neck, the bikini line or the upper lip. This is not limited to women; many men also prefer a hairless lip. Many medi-spa services are available from their on-staff medical aesthetician. Dr. Sassani adds: "In addition to all of the aesthetic services we provide, we also offer a full array of reconstructive procedures for skin and breast cancer."
Equally important, they perform preventative procedures to stave off skin cancers. For pre-cancerous skin lesions, they perform excisions and removals. This preventative measure not only saves the patient time and expense, it also helps insure the patient's quality of life.
Above all, care must be taken when seeking a "deal" for these services. It is always very tempting to go to the cheapest game in town. The patient should remember they are making permanent changes that can be irreversible or costly to correct. Unfortunately, there are many who are under-trained in performing procedures that are best left to the experts. The patient should do their homework. Being referred by another satisfied patient or a qualified medical professional is always best.
Take Shape Plastic Surgery P.A. offers free consultations. Those interested can check out their website at http://www.takeshape.info or call to schedule an appointment to help accomplish their individual goals.