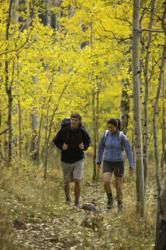 Aspen, CO (PRWEB) July 26, 2012
Autumn in Aspen has always been somewhat of a local secret. Akin to summer, fall is filled with bluebird skies, world-class festivals, and the same great outdoor adventures like hiking, biking, rafting, and paragliding. But unlike summer's frenetic pace, fall offers the opportunity to experience Aspen's mellower side, where one might just find themselves all alone on a favorite trail. Or dining at a favorite restaurant twice due to a great deal. Or even extending a stay in this veritable mountain paradise because of shoulder-season discounts at most of town's lodges.
With a cultural calendar that's as colorful as the brilliantly golden aspen leaves that pepper the mountains surrounding town, fall might just be the best time to visit Aspen. Check out 10 exceptional ways to experience Aspen in all its vibrant autumn glory:
1. Lights, Camera, Action. A feast of film and fall color for movie lovers of all ages, Aspen Film's centerpiece event, Aspen Filmfest, presents filmmaking at its finest with an emphasis on independent productions from around the world in a uniquely intimate scale. Screenings include new releases, acclaimed documentaries, and favorites from the festival circuit. Special programs include tributes to distinguished artists. Past honorees include Anton Yelchin, Julie Christie, Harrison Ford, Rob Reiner, Sydney Pollack, Bob Rafelson, Michael Douglas, Anjelica Huston and William H. Macy. (http://www.aspenfilm.org; 970.925.6882)
2. Cycle City. Aspen is truly a biking town. From meandering riverside trails and serene road riding up to the Maroon Bells (one of the world's most photographed peaks) to some of the region's most extreme mountain biking, Aspen has a bit for every level or rider. So pack a picnic lunch and decide which fall color is the most inspirational. Aspen's bike shops can provide local knowledge, equipment and guided tours. (blazingadventures.com; 970.923.4544; utecitycycles.com; 970.920.3325)
3. Aspen by Air. Fall colors will never look the same after paragliding over the town of Aspen. Aspen Expeditions' tandem guides take you to the top of Aspen Mountain. Once on top, take flight and enjoy the adrenaline rush. (http://www.aspenparagliding.com; 970.925.6975)
4. Natural-ly Aspen. Visit the Aspen Center for Environmental Studies (ACES) on the Hallam Lake Reserve. Take in the autumn hues with the family while learning about the native trees, birds and animals that thrive in the high-alpine environment. ACES also hosts affordable guided hikes. (aspennature.org; 970.925.5756)
5. Hut-to-Hut. Trek through vast wilderness and stay at the 10th Mountain Division Hut System. Twenty-nine backcountry huts sprinkle the Colorado Rocky Mountains — many with easy access to Aspen, most accessible by 4-wheel drive, mountain bikes or hiking. Huts are equipped with fireplaces, cooking materials and water. (http://www.huts.org; 970.925.5775)
6. Race to the Finish. Named by Trail Runner as one of "America's 14 most scenic races", the Vasque Golden Leaf Half Marathon on Sept. 22 is a race like no other. It gains 970 feet in elevation on a narrow, winding single-track before peaking out at 9,400 feet above sea level. (goldenleafrace.com; 970.429.2093)
7. Reach the Peak. Go the old-fashioned route. Lace up your hiking boots and nature comes to you. Favorite fall hikes in Aspen include Grizzly Peak, Cathedral Lake, American Lake and the Hunter Creek Trail. If feeling ambitious, take a guided trek up one of Colorado's 14,000-foot peaks. For gear, maps and guides visit the Ute Mountaineer or Aspen Expeditions. (utemountaineer.com; 970.925.2849; aspenexpeditions.com; 970.925.7625)
8. Rocky Mountain High. Celebrate all things John Denver Oct. 10-13 with four days of music showcases and events with the Colorado legend's biggest fans. (http://www.john-denver.org)
9. Farm-to-Table. Aspen's Saturday Market, which runs through mid-October, features the most seasonal, locally sourced fruits and veggies to be found in Aspen. But that's not all; also enjoy handmade gifts and other locally crafted items, from pastas, jewelry, and artisanal cheeses to wine made in nearby Woody Creek, clothing, and even furniture. (Aspen Farmer's Market)
10. Get Pumped for Winter. Aspen is, after all, a ski town at heart. Get excited for winter with The Meeting, Aspen Skiing Co.'s annual gathering of industry pros and filmmakers for three days of parties, fashion shows and the latest ski flick screenings of the season. And a few times in the past several years, we've actually gotten the first snow of the season on the eve of The Meeting. Serendipity? We think so. Runs Sept. 27-29. (The Meeting; 970.925.1220)
ABOUT ASPEN
Aspen's plethora of warm-weather pursuits pique nearly every passion, from extreme outdoor adventure to world class cultural pursuits, from Colorado's best fly fishing, to indulgent spa offerings. Whether experiencing the rapids of the Roaring Fork River (running directly through the center of Aspen), to scaling the rock walls up Independence Pass, or biking on picturesque trails, there is an activity for everyone to savor Aspen's stunning mountain scenery and experience "the good life."
For more information, a complete calendar of events, or to book an Aspen vacation, visit http://www.aspenchamber.org, or call 800-670-0788.
For media information and images, contact Promo Communications.
Maureen Poschman • maureen(at)promocommunications(dot)com • 970.925.8480
Sarah-Jane Johnson • sarahjane(at)promocommunications(dot)com • 970.925.8480
Damien Williamson • damien(at)promocommunications(dot)com • 970.925.8480
For visitor information, visit http://www.aspenchamber.org, or call 1.888.290.1324 or 970.925.1940.
Twitter: @AspenCo
Facebook: AspenChamber