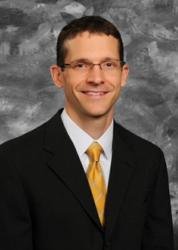 Founder and President, Dr. Cyr said, "We are very excited to have Dr. Duey join our team here in San Antonio!"
San Antonio, Texas (PRWEB) July 25, 2012
Orthopaedic and Spine Institute Founder and President, Dr. Stephen J. Cyr announced today that the Orthopaedic and Spine Institute Medical Centers added another fine surgeon to its growing medical services organization based in San Antonio, Texas.
Richard E. Duey, MD is an Orthopaedic Surgeon who has also received extensive specialty training in the areas of Sports Medicine and Shoulder Surgery. Doctor Richard E. Duey, MD is Fellowship trained in Shoulder Surgery and Fellowship trained in Orthopaedic Sports Medicine. Duey is originally born in Springfield, MO.
Dr. Duey spent six years between the ages of seven and fourteen living in Africa where his parents served as missionaries. This unique experience provided him with valuable insight into what it means to live a life of service to others.
Upon his return to the United States, Dr. Duey's family settled in Oklahoma City, OK. where he completed high school. After graduation he then returned to Africa aboard a hospital ship affiliated with Mercy Ships, an organization whose mission is to bring hope and healing to the world's poor. He spent a total of five months serving as a part of Mercy Ships prior to returning home.
Dr. Duey completed his undergraduate studies at Southern Nazarene University in Bethany, OK where he graduated Summa Cum Laude with a Bachelor of Science Degree in Biology-Chemistry. After completing his Bachelor's Degree he attended medical school at the University Of Oklahoma College Of Medicine. Upon completion of medical school, Dr. Duey was accepted into a five-year residency training program in orthopaedic surgery at the University of Kansas in Wichita, KS. It was here that he received outstanding training in the various disciplines of orthopaedic surgery, and in particular orthopaedic trauma surgery, joint replacement, and minimally invasive arthroscopic surgery.
After residency, Dr. Duey elected to spend a year specializing in Orthopaedic Sports Medicine in Tennessee. During this time he managed and treated a variety of sports-related injuries and other musculoskeletal conditions in patients both young and old. Because of a strong, personal interest in caring for and treating shoulder problems, Dr. Duey chose to invest an additional year undergoing specialty training in shoulder surgery. This decision brought him to the great state of Texas and allowed him the unique opportunity to address complex shoulder conditions utilizing cutting-edge arthroscopic and open techniques.
Both life experience and an outstanding education have been instrumental in shaping Dr. Duey into the physician that he is today. His desire is to provide the highest level of care to each patient using nonsurgical treatment and, when necessary, surgical intervention. He derives a great deal of satisfaction from educating his patients about their condition and helping them come to a treatment decision which they can be satisfied with. He is both honored and grateful to be joining the outstanding team of physicians and support staff at the Orthopaedic and Spine Institute. He looks forward to serving the people of San Antonio and the surrounding area.
When not working, Dr. Duey enjoys spending time with his wife and two daughters. Together they like to travel and spend time with family and friends.
If you would like more information about how to consult with Dr. Duey, please call 210-487-7463, and if you desire more information about OSI please contact Dave Howell, Marketing Director, at 210-618-6566 or visit http://www.saspine.com.