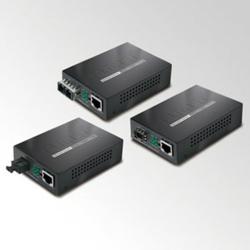 Chino, CA (PRWEB) July 27, 2012
Versa Technology, (http://www.versatek.com) a leading provider of telecommunications equipment, has released a new line of fiber media converters to meet the demanding challenges facing bandwidth providers today. The line includes SC, ST, up to 80KM in distance, managed and Din Rail support.
"We have seen how the US and Canadian market have changed and want to meet the ever demanding changes happening in todays market" Shaw Tien, VP of North American Sales said, He went on to say that "our goal is to provide a great product at a reasonable cost and we feel we can do that with these products."
Versa Technology is proud to release the FT-80X series, which is Fast Ethernet Bridge 100Base-FX fiber to 10/100Base-TX shielded twisted pair (STP) converter. It supports selectable for half-duplex and full-duplex operations and supports a variety of fiber options. The converter auto-adapts to the highest level of performance supported by the device connected to the STP port. When the device is a switch or a workstation that supports full duplex, the converter adapts to the full-duplex mode and provides an effective 200Mbps bandwidth. When the connected device is a hub or a workstation that supports only half duplex, the converter adapts to the half-duplex mode and provides the nominal 100Mbps bandwidth. An override switch provides total manual control over the half/full-duplex operation, in fiber-optic interface. The fiber port of converter operates at 1310 nm and uses ST, SC, MT-RJ, VF-45 or WDM connectors. Multi-mode models that support distances up to 2 km and single-mode models that support distances up to 15/35/50 km are available.
Versa Technology has seen the need for the GT-80x series, which extends communication distance with highly Gigabit performance via fiber optical cable. The GT-80x series provides media conversion between 10/100/1000Base-T and 1000Base-SX/LX interfaces such as multi-mode LC/SC connectors (220m / 550m), single-mode LC/SC connectors (10/20/30/40/50/70/120km) and single fiber connectors (WDM, 15/60km) for various fiber optic applications.
Versa Technology is also releasing the GT-90x series, which is the 10/100/1000Base-T to 1000Base-LX / SX Managed Media Converter developed to fill the advanced demand from further Network applications and equipped with the feature of plug and play. The GT-90x series provide the flexibility with all kinds of 10/100/1000Mbps Ethernet Media on RJ-45 port and offer highly stable Gigabit fiber performance.
About Versa Technology:
Versa Technology, located in Chino, California, is a company that provides both fiber and copper for last mile solution. With worldwide offices in Korea, China and the United States, Versa Technology has taken advantage of the global marketplace to grow at an amazing pace. Versa Technology develops and distributes Ethernet Extenders, VDSL2, DSLAMs, Power over Ethernet, POE Injectors and other high quality networking equipment.