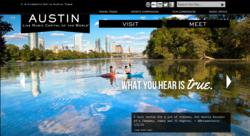 The bureau didn't feel it had to tell its own story about how cool Austin is; it could rely on what other people are saying about the city to tell Austin's compelling story.
Austin, TX (PRWEB) July 26, 2012
When it comes to Austin: What you hear is true. This was the central theme for a complete rebranding of the Austin Convention & Visitors Bureau, which wanted to reinvigorate its outreach to business groups looking for host cities for their conventions and industry gatherings as well as to leisure travelers looking for a vacation destination unlike any other. Austin offers a wealth of things to see and do, from world-renowned music, food, arts events and museums to outdoor activities that satisfy everyone from stand-up paddle boarders to triathletes.
Austin CVB's rebranding balances an emphasis on both BtoB targets and traditional leisure travel segments. The What You Hear Is True campaign's goal educates meeting planners about what makes Austin a unique and desirable place to hold business and industry events of all sizes, highlighting Austin as a world-class meetings destination that features technologically advanced facilities, easy mobility to and from the airport and proximity to local activities of every kind. For the leisure traveler, the campaign showcases Austin's wide variety of entertainment options that appeal to a wide range of visitors.
Let Austin Visitors Do The Talking, Texting, Posting And Tweeting
Austin CVB has long known Austin is a bona fide rockin' city, so rather than tell its own story about how cool Austin is the bureau's campaign relies on what other people are saying about the city to tell Austin's compelling story.
Collaborating with nFusion, an Austin-based full-service digital-centric marketing agency, Austin CVB chose to avoid a typical advertising campaign in favor of an integrated marketing strategy that relies on user-generated content to tell the world how great Austin is as a destination for business and pleasure. Visitors' social media interactions with friends and associates in the form of tweets, blog posts, text messages and photos are the heart of the digital campaign that matches visitor kudos with unique images from around the city and advertising copy that makes it clear why Austin is a must-experience city for meetings and leisure travel.
"Austin's reputation for music, food and fun is matched by the city's technology savvy, so it was only natural for the campaign to take advantage of the intersection of tech and the Austin experience in this unique, social media-driven format," says nFusion CEO John Ellett. "Using user-generated content to encourage businesses and meetings planners to explore Austin places Austin CVB at the innovative forefront of its industry."
About The Austin Convention & Visitors Bureau
The Austin Convention & Visitors Bureau is the official destination marketing and sales organization for the City of Austin. An accredited member of the Destination Marketing Association International, Austin CVB is charged with marketing Austin nationally and internationally as a premier business and leisure destination, thus enriching our community's overall quality of life. Locally, travel supports an estimated 38,000 jobs and pumps nearly $4 billion into Austin's economy.
About nFusion
nFusion is an integrated digital-centric marketing agency headquartered in Austin, TX that partners with marketing change agents to revitalize brands, transform their digital presence and accelerate sales. The full service agency partners with a wide range of B2B and B2C clients across all verticals. nFusion's work balances traditional media with the latest digital capabilities, always geared to generate results. Clients include AMD, Anheuser-Busch/InBev, BJ's Restaurants, CiCi's Pizza, Comerica Bank, Samsung, Sonus Networks and Zimmer Spine. nFusion can be found online at nfusion.com. Find us on Facebook at facebook.com/nfusion; tweet us at twitter.com/nfusion.