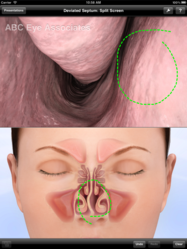 "...the iPad is becoming a standard in healthcare and we remain committed to providing our users with the highest level of innovative technology on the platform." - Jeff Peres, Eyemaginations CEO and President
Baltimore, MD (PRWEB) July 26, 2012
Patient education leader, Eyemaginations, is pleased to announce the launch of a new ENT iPad App designed for otolaryngologists. The new app, known as the LUMA ENT Condition Simulator iPad App, features state-of-the-art, on-screen drawing functionality and gives the user the ability to explain disease progression for such conditions as sinusitis, tonsillitis, deviated septum, and hearing loss. In addition, with Apple's Airplay, users of the new app are able to share the iPad screen images wirelessly to a television when used with AppleTV.
As with the other two ENT apps available from Eyemaginations, the LUMA ENT Condition Simulator was designed to help doctors be innovative and efficient. The LUMA ENT Condition Simulator allows doctors and staff members to explain disease progressions to patients quickly and effectively with just a swipe of a finger.
"We are excited to release another iPad app with on-screen drawing functionality," said Jeff Peres, president and CEO of Eyemaginations. "As we continue to see with our clients, the iPad is becoming a standard in healthcare and we remain committed to providing our users with the highest level of innovative technology on the platform."
The LUMA ENT Condition Simulator iPad App is available as a free download in the iTunes Store for all LUMA customers. Interested practices can receive a demonstration at The Open Forum 2012 meeting being held in New York City on July 27-28.
Information about the company's full suite of iPad Apps can be found by calling Eyemaginations at 877.321.5481, emailing entinfo@eyemaginations.com or by visiting http://www.eyemaginations.com.
About Eyemaginations
Eyemaginations, Inc. is a health care media company focused on solutions that support professionals, patients and corporations in communicating and understanding complex topics. The company's in-depth experience with animation, design and software has enabled Eyemaginations to create integrated systems that provide clear and concise education solutions. Eyemaginations has a portfolio of products that are focused on eye care, ENT, audiology and facial aesthetics. Eyemaginations may be reached by phone at 1-877-321-5481, email at info@eyemaginations.com or online at http://www.eyemaginations.com.