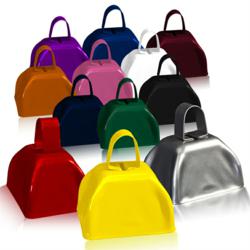 Chicago, IL (PRWEB) July 26, 2012
Sporting competitions like the Olympic Games and other various events are the perfect time to bring out the noisemakers. Noisemakers are popular to use to support favorite teams or to cheer at concerts. Sometimes they have a dual purpose, like being a safety warning. Windy City Novelties presents some interesting facts about the most popular noisemakers.
Air horns: The most popular form of this noisemaker is the compressed air can. However, the definition of an air horn is any horn that pushes pressurized air through a valve. It can be turned on and off at will. These were used on fire trucks and ambulances in the past, and are still in use on trains and ships as a signaling.
Whistles: There are many types of whistles used all over the world, from boat whistles to big tin whistles. In sports, whistles are typically used by the referees to call a stoppage of play. Some whistles, like the slide whistle, can make different pitches to play full songs.
Thundersticks: One of the more recently created noisemakers; Thundersticks were originally created in South Korea in 1999. They picked up popularity in the US during the 2002 MLB World Series. These large plastic balloons are smacked together to create a loud sound. They are easy to manufacture and their size allows for printing team or company logos on them.
Kazoos: This little plastic instrument is beloved by children for its unique and comical sound. It's used in jug bands and comedy music. The sound is produced by humming into the kazoo, allowing anyone to play a song if they can hum it.
Party Poppers: A combination of noise and explosion, these little plastic noisemakers are popular for New Year's celebrations. The pop comes from a small explosive charge activated by pulling a string. This not only makes the popping noise they are named for, but also releases confetti.
Maracas: These are a native instrument of Latin America and were originally made of coconuts and dried out gourd shells. Though at first popular for Latin music, these can also be heard in pop and classical music. Maracas have found their way into Cinco de Mayo celebrations.
Tambourines: This instrument makes a pleasant jingle sound rather than a boom or smacking sound. They are prevalent in rock music as many famous lead singers have played them while preforming. Drummers also attach them to their cymbal stands to play with drumsticks as well.
Cowbells: Made famous by an SNL skit, there are a couple of different types of cowbells. Some are completely empty inside and are hit with a stick--these are found mostly in concert bands. Another variation is a smaller metal bell with a clapper in the middle to make a ringing sound. Cowbells are often handed out at college sporting events and come in many colors.
Vuvuzelas: These traditional South African instruments were the hot topic surrounding the 2010 FIFA World Cup and were almost banned, not because they were considered "annoying" but due to concerns of marketing schemes and possible use as a weapon. However, teams, coaches, and commentators alike all complained about the constant buzzing noise that dominated the stadium. The vuvuzela has such an infamous reputation that it's banned in several professional sports stadiums and leagues, including Yankee Stadium.
Make sure to include noisemakers at the next party or sporting event!
ABOUT WINDY CITY NOVELTIES
Windy City Novelties, a party supply company founded in 1983, is known for their great selection and competitively priced items. They have an A+ rating from the Better Business Bureau and are also a NexTag 5 star Seller. From their website, windycitynovelties.com, they offer fast and friendly shipping along with great customer service. From glow sticks to balloons in every color of the rainbow, and even a vast selection of costumes at the best prices, Windy City has over 15,000 products and adds more each week.