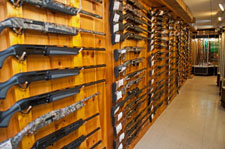 You won't find any clothing here or boots or sneakers - we're just dedicated to the gun sports!
Round Lake, NY (PRWEB) July 26, 2012
Zack's Sports, a full-service gun sporting shop in Round Lake, knows what firearm enthusiasts expect from their outfitters. The store first opened in 1993, and after nearly ten years the business is proud to call themselves the premier gun provider in the area. Specializing in firearm trade and repair, the store serves the individual needs of every customer.
You won't find boots or sneakers for sale in this store. The inventory is dedicated completely to gun sports. Zack's Sports seeks to offer a selection of well-known, reliable brands, such as Smith & Wesson, Browning, and more. One of the most popular firearms the store offers is the iconic AR-15 rifle, along with various accessories designed specifically for the gun.
In addition to a wide variety of different firearms, Zack's Sports offers repair solutions, ammunition, and accessories for every imaginable need. Their ammo selection is extensive, and the business also stocks a large inventory of manufacturer and aftermarket magazines. If customers have a gun with a problem, the store's factory-certified service technicians can help, offering repair services for nearly any firearm.
Customers searching for the perfect accessory for a particular brand of gun will be pleasantly surprised by Zack's Sports' selection of scopes and other optics technology. The store also carries grips, bipods and slings for specific gun models and universal varieties. The staff prides themselves on a practical knowledge of most common accessories, and are always happy to recommend their favorites.
The store also sells a variety of hard and soft gun cases, as well as gun locks and safes. The gun safes are equipped with the latest safety innovations, and are unsurpassed when it comes to keeping guns out of the wrong hands. Zack's Sports considers gun safety their first priority at all times, and is proud to offer full-service security and safety solutions.
About the company:
Zack's Sports first opened in 1993. Currently located in Round Lake, NY, they specialize in the general firearm trade. They offer a variety of firearm products to meet the individual's needs. Zack's Sports is proud to carry high quality products by Smith & Wesson, Browning DPMS, and many other manufacturers. For more information visit their website at http://www.zackssports.com.