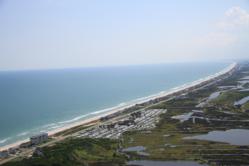 Topsail Island, North Carolina (PRWEB) July 27, 2012
Here in the United States there are so many great locations that are very attractive to home buyers who are looking for their own castle by the sea. California, Florida, Hawaii and Maine are just a few locales that offer buyers very unique lifestyles, home styles and beautiful landscapes. Each of these locations are considered a vacationers paradise and are highly sought after by second homes buyers and also by those seeking primary residences. Another location that should be included in this list is North Carolina and in North Carolina, judging from the growth in vacation rentals and home sales, Topsail Island is tops with vacationers and locals alike. Home sales on Topsail Island and in surrounding communities like Sneads Ferry and Jacksonville, NC are booming with home buyers flocking to take advantage of very low interest rates and lots of very good real estate deals.
The overall housing market confirms this upward movement. Lawerence Yun, NAR chief economist, says "The housing market is clearly superior this year compared with the past four years. The latest increase in home contract signings marks 13 consecutive months of year-over-year gains." According to the National Association of Realtors®, "The Pending Home Sales Index, a forward-looking indicator based on contract signings, rose 5.9 percent to 101.1 in May from 95.5 in April and is 13.3 percent above May 2011 when it was 89.2."
Further evidence of this upward tracking in the real estate market and of the popularity of the Topsail Island area can be found in the second quarter, 2012 numbers recently released by Treasure Realty. Within the Topsail Island and surrounding coastal communities, there was an overall 104% increase in home sales compared to this same time in 2011. Not only that, Treasure Realty® also reported a performance boost of 161% in 2012 compared to last January through July 6th, 2011.
As the housing market continues to show an upward movement from its proclaimed rock bottom, this past spring, some are wondering if this upward trajectory is here to stay and it is obvious that Treasure Realty® Marketing Director, Isaac Baker, thinks so. "There has never been a better time to own a vacation rental property on Topsail Island…" he stated in a recent interview. " The Internet has made it easier than ever before to find new vacationers and more-and-more people are discovering the hidden treasure that is Topsail Island. Even through the bleak economic landscape of the past few years, the Topsail Island rental market has not suffered a downturn, but has actually increased year over year allowing buyers to not only enjoy time with family and friends here but also generate income through rentals." Baker continued…"The value of real estate on Topsail Island is trending upward and higher than it's been in recent memory so now is truly the time to buy."
For additional information, visit http://www.treasurerealtors.com and research the Topsail Island area, nearby communities like Sneads Ferry and Jacksonville and all the types of homes and condos available or call 888.630.0548.
About Treasure Realty: Treasure Realty is a full service Topsail Island Real Estate Company offering 400+ vacation rentals and also sales services to buyers and sellers in Topsail Island, Sneads Ferry and Jacksonville, NC. Treasure Realty has been serving the NC Coast since 1989 and is #1 in Sales and Rentals on Topsail Island. http://www.TreasureRealtors.com today and let us help you find your castle by the sea.