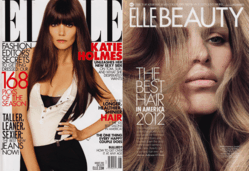 We are so pleased and excited that Elle included The Upper Hand on its Top 100 Hair Salons in America list, for the third year in a row
Houston, TX (PRWEB) July 27, 2012
Founded in France in 1945, Elle magazine, a Hearst publication, focuses on women's health, beauty and fashion. With a monthly circulation of over 1.1 million and 23 million readers globally, Elle is the world's largest fashion magazine. Elle features 44 international editions spread over more than 60 countries and the Elle websites boast over 2 million engaged users. Elle's rich history in the fashion and beauty industry has made their annual list of the Top 100 Hair Salons in America a highly anticipated and very prestigious.
Elle's 2012 list of the Top 100 Salons in America appeared in their August issue that features Katie Holmes on the cover. In an article titled "The Best Hair in America 2012", Elle lists the popular cuts from coast to coast, and tells readers where to get them. Under the heading "United States of Style" Elle provides a state by state listing of their Top 100 Salon in America. For the third straight year, Elle named The Upper Hand as one of their top salons in America. The Upper Hand was the only Houston hair salon that was included on the list. Other Texas hair salons included on Elle's list include Birds Barbershop and Spruce Salon from Austin as well as Halo and Osgood-O'Neil from Dallas.
In the article, Elle also named Michelle Williams' pixie as the most requested cut of the year, particularly in steamy, humid climates. "Even when the temperature reaches triple digits, the pixie looks put together and effortless", said Rachel Gower, President of The Upper Hand Salons in Houston.
"We are so pleased and excited that Elle included The Upper Hand on its Top 100 Hair Salons in America list, for the third year in a row. Our incredibly talented and creative Artistic Team has worked hard all year to make this possible. We are so fortunate to be part of such an amazing team and to get the opportunity to work in the fashion and beauty industry," said Rachel Gower, President of The Upper Hand LLC.
About The Upper Hand LLC
The Upper Hand operates two full service hair salons in Houston, Texas and carries the Kerastase, Shu Uemura, Goldwell, Jan Marini and Jane Iredale product lines. Founded in 1996, by Rachel Gower and her husband Brian Williard, The Upper Hand currently has been featured on Mirror Mirror, Great Day Houston, the Houston Chronicle and ABC News. In addition to traditional hair salon services, The Upper Hand also offers hair extensions and hair straightening. Rachel Gower also publishes Rachel on Beauty, a beauty tips blog. When not working or spending time with her family, Ms. Gower likes to devote time to improving the community by actively volunteering with Communities In Schools Houston, a leading drop out prevention organization.