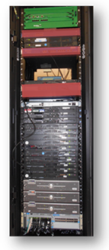 O'Fallon, MO (PRWEB) July 27, 2012
The PoliWall belongs to a class of specialized perimeter security devices designed not to compete with firewalls and routers, but to augment them with new capabilities and higher performance. The PoliWall in-line IP filtering appliance blocks inbound and outbound traffic by country and by IP Reputation Block Lists at line speed.
By stopping needless traffic and malicious IPs at the perimeter, the workload on systems deeper inside the network is decreased, making routers, firewalls, and IPS/IDS systems more effective at stopping attacks. By blocking outbound connections to the millions of IPs on TechGuard's managed IP threat lists, the chance of sensitive data unintentionally leaving your network is greatly reduced.
The three PoliWall models tested were the entry level M10 with a throughput of 100 megabits, the enterprise level G01 for gigabit environments, and the virtual V01 for cloud deployments.

The PoliWall baseline tests ran a 'US Only' traffic policy (equivalent to loading 12,000 IP ranges in a firewall or router), while blocking 30M IP addresses tied to botnets and malware.
Each PoliWall was tested under exact network traffic conditions in a deployment environment that included routers, firewalls, IDS, and IPS systems.
The performance data shows packet latency, packet throughput, TCP connection rate, and resiliency during a SYN Flood DDoS attack.
Download the white paper report to learn more about the BreakingPoint tests and exceptional PoliWall performance results.
About TechGuard
TechGuard Security was founded in February 2000 to address National Cyber Defense initiatives and US Critical Infrastructure Security. TechGuard provides trusted and award-winning Cyber Security Solutions through innovative research and development, consulting services and training for the DoD, Intelligence, DHS, Federal, Financial, Energy and Healthcare communities.