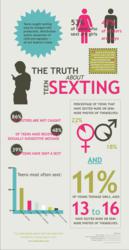 "If [teens] are caught sexting, they may be charged with production, distribution and/or possession of child pornography—all federal crimes." - Tim Woda, Internet and mobile safety expert
Arlington, Virginia (PRWEB) July 26, 2012
uKnowKids, a leading child safety company announced today the release of "The Truth About Teen Sexting" the second of a series of infographics that addresses the rising number of sexting incidents among teenagers. The results show that sexting is a growing problem that needs to be addressed immediately. Internet and Mobile Safety expert Tim Woda stated "22% of teen girls and 18% of teen boys have sexted nude or semi-nude photos of themselves."
As part of its commitment to keeping children safe and update parents with pertinent information, uKnowKids has designed a campaign to inform parents of the importance of teaching teenagers the major repercussions that come with sexting. Woda wants to ensure that teenagers understand that "if they are caught sexting, they may be charged with production, distribution and/or possession of child pornography—all federal crimes."
uKnow Kids provides the following tips on sexting for parents:
•Talk about ramifications: Make sure the child understands that sexting as a minor is a federal crime and that he/she can be prosecuted. The ramifications are severe and can ruin their future whether it's applying to college or a job.
•Talk about peer pressure: There is peer pressure everywhere but it's important for parents to teach their children on how to deal with the situation. Just because it sounds cool doesn't mean it really is. There is nothing "cool" about ending up on the sex offenders list.
•Talk about self-esteem: Both teenage boys and girls have self-esteem issues as they are growing up so it is imperative that parents discuss that it's alright to be a little unsure of themselves but sexting is not the answer to coming out of their shell.
•Talk about their image: Parents need to teach their children about sending out a positive image of themselves. A child's reputation will stay with them forever.
•Use a Parental Intelligence System: It is the parent's job to make sure to keep their child safe and the only way to do that is to monitor their phone calls, text messages, and social media sites. It's important to stop any situation before it becomes a catastrophe.
To help establish child safety this coming school year, uKnowKids will be featuring a new infographic each month. Stay tuned for our next infographic on "Internet Predators."
Please note that website bloggers can copy the infographic onto their own site to share with friends and readers by downloading here—
http://info.uknowkids.com/the-truth-about-sexting
About uKnow.com
Founded in 2009 and headquartered in Arlington, VA., uKnow.com is the only company that offers a parental intelligence system available for both private-label and consumer use. The company powers the world's leading Parental Intelligence Systems including uKnowKids.com, KidSafe.me, SafeCyberKids.com, SocialFirefly.com, aBeanstalk.com, MySocialScout.net, and p911Safety.com, among others.
uKnow.com works with companies and organizations to help parents protect their kids from child predators, sexting, and cyberbullying with a special focus on social networks and mobile phone. uKnow.com's technology provides parents with a bird's eye view of what is going on in their child's digital world so that they can keep their finger on the pulse, and when necessary, take action to protect the safety and privacy of their kids. You can find uKnow.com on Twitter at twitter.com/uKnow_com, on Facebook at facebook.com/uKnow.com, and on their Parenting Blog.