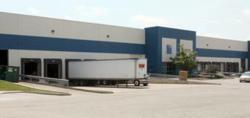 Meritex has had the Jefferson Building on its acquisition radar for several years and we are excited to now own this first-class asset. -Dan Williams, Chief Investment Officer
Minneapolis, MN (PRWEB) July 26, 2012
Meritex today announced the expansion of its real estate holdings in Indianapolis with the acquisition of the Jefferson Building, a 73,290 square foot, multi-tenant, office/warehouse project located in the area of Park 100. The property is currently 100% occupied by four tenants. The acquisition also includes a 4.5 acre land parcel capable of supporting an additional 60,000 square foot industrial building.
"Meritex has had the Jefferson Building on its acquisition radar for several years and we are excited to now own this first-class asset. Our investment strategy focuses on acquiring properties where we can create value and produce consistent cash flows," said Dan Williams, chief investment officer of Meritex. "The Jefferson building is well-located, highly functional and should prove-out to be a stable asset for the company. The excess land will provide us with the opportunity to create value by developing additional space solutions for our tenants"
This acquisition expands Meritex's Indianapolis portfolio to more than 875,000 square feet. Meritex will directly manage the Jefferson property along with its other holdings in Indianapolis. "We are excited to add this Park 100 property to complement our Indianapolis portfolio," said Jill Evans, Portfolio Manager of Meritex. "By providing cost-effective, streamlined service and focusing on our customers' needs, the Meritex team intends to develop lasting relationships with the four tenants at Jefferson."
Company Information: Meritex is a private real estate investment and management company that acquires, develops, owns and operates commercial real estate, primarily institutional grade, multi-tenant industrial properties. The Company owns, leases, and manages nearly 9.2 million square feet of commercial real estate in 7 markets in the U.S. Its portfolio consists of multi-tenant industrial, office and subsurface industrial properties. The Company's properties are located in Atlanta, Columbus, Denver, Houston, Indianapolis, Kansas City, and Minneapolis-St. Paul. Additional information can be found at the Company's website http://www.meritex.com.