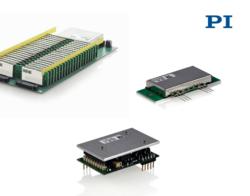 Auburn, MA (PRWEB) July 25, 2012
PCB-Mount, Compact, Multi-Channel Sub-Systems
The E-831, compact, PCB mountable piezo power amplifier module is comes in several versions with different output current specifications up to 0.25 amp, depending on the dynamic requirements of the application. Multi-channel sub-systems for up to 40 units are available as well.
Specs: Voltage Range / Gain, Temperature Protection
The low-noise piezo amplifiers feature a voltage gain of 10 and output voltage range from -30V to +130 V with a maximum frequency of 15 kHz. The short-circuit-proof units are also equipped with a temperature sensor to protect the amplifier from overheating.
Power Supply Modules with DC/DC Converters
External power supply modules with DC/DC converters are available to provide the driver modules with the required piezo-output voltage.
Applications
These compact piezo drivers were developed for PICMA multilayer piezo actuators and can be used with any low-voltage piezo stack actuator on the market. Piezoelectric actuators are renowned for their high efficiency / low power consumption as well as their high precision, speed and force generation. They have applications in many fields from bio/nanotechnology to semiconductor production and aerospace.
More information on the new piezo drivers is available at
http://www.piceramic.com/piezo_driver.php?onl_prw