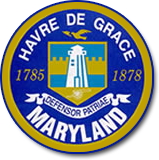 "Healthy citizens are the greatest asset any country can have." Winston Churchill
(PRWEB) July 27, 2012
Individuals and families in Harford and Cecil County are all invited to come to Havre de Grace this August to have fun, listen to live music, participate in aerobic dance competitions, win valuable prizes and learn how to live longer, healthier and happier lives at the Healthy Living in Havre de Grace Health Fair.
The historic city of Havre de Grace with its museums, scenic vistas and plethora of restaurants is renown for its 226 year history which includes a legacy as a race horse destination, duck hunting/decoy town and residential community. However the city government leadership recognizes that the the health of its citizens is of vital importance and as a result has teamed up with the Iota Nu Chapter of Omega Psi Phi Fraternity, Inc. and Upper Chesapeake Health to put together an ambitious community health fair to take place this summer.
"Healthy citizens are the greatest asset any country can have." Winston Churchill
The basic purpose of the "Healthy Havre de Grace Health Fair" is to bring community resources together for the health improvement of all demographic groups within Harford County. This means that children will have fun attractions like obstacle course races, a moon bounce and nutrition education to oppose the national trend toward childhood obesity. Women will have focused attractions targeted against breast cancer, heart disease, and fitness. Men will have prostate health information, opportunities for screenings, nutrition and cancer prevention information. Families will learn how to make their homes safer places and the elderly will have engaging activities where they will learn how to live longer and more fulfilling lives. Everyone who attends this free event will enjoy live music, zumba, hand dance and country line dancing demonstrations and hourly 50:50 give aways that have been donated by Harford county's generous health related businesses.
Additional health improvement and longevity services to be provided at the health fair include:

blood pressure screening
body composition and body fat analysis
diabetic risk assessment and educational material
stroke risk assessment and educational material
health wheel game
"It is health that is real wealth and not pieces of gold and silver." Mahatma Gandhi
What started out as a small idea within the brilliant minds of Mayor Wayne Dougherty and Basileus Dwayne Adams has blossomed into a major Harford County community event as a result of multiple collaborating organizations and supporting businesses. In order to make this community event take place a number of Harford County organizations are coming together including:
The City of Havre de Grace
Omega Psi Phi Fraternity
Upper Chesapeake Health
Zeta Phi Beta Sorority
Delta Sigma Theta Sorority of Harford County
The Harford County Agency for the Elderly
The Havre de Grace Rotary Club
In addition to the local participating organizations a number of Harford county businesses are also participating including but not limited to De Chalet Hair Salon, Events by Lorraine, Eleganza, Healthy Plants & Trees and Sweet Do Deli, Bikes 4 Breast Cancer, Women's Challenge Inc., Doctors for United Medical Missions and others.
The community spirit that the Omegas and city government have harnessed for this health fair is reminiscent of that which resulted in the creation of Harford Memorial Hospital 100 years ago. This free health fair also demonstrates that even as Harford Memorial Hospital has evolved from a community generated institution into a vital component of Upper Chesapeake Health, eventually merging with the University of Maryland, its century long commitment to being a community partner is as strong as ever.
In addition to the centennial anniversary of Harford Memorial Hospital its collaborative partner the Omega Psi Phi Fraternity has also celebrated its 100 year anniversary. Manhood, Scholarship, Perseverance, Uplift are the cardinal principles that have inspired Harford County's Iota Nu Chapter of Omega Psi Phi Fraternity, Inc. to invest in assisting Harford county's veterans, youth, and needy for many years.
"When health is absent, wisdom cannot reveal itself, art cannot manifest, strength cannot fight, wealth becomes useless, and intelligence cannot be applied." - Herophilus 300 BC.
Havre de Grace, Harford County and Cecil County citizens are invited to attend the "Healthy Living in Havre de Grace Health Fair" at the Havre de Grace Community Center at 100 Lagaret Lane on August 18th, 2012. It will be a wonderful opportunity for families and friends to relax, have fun and learn how to live longer, healthier and more productive lives.
Information available at http://www.ques-iotanu.org
Contact Information:
John B. Sampson, M.D.
healthyhavredegrace@yahoo.com