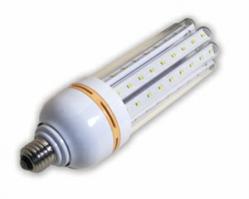 Chicago, IL (PRWEB) July 26, 2012
The summer is the season for road construction. This requires well lit construction sites so workers can clearly see while working, and so drivers are aware where construction sites, as well as workers, are. Go Green LED Bulbs provides a variety of roadway bulbs that are ideal for construction sites, as well as for use in many other lighting applications.
There is a growing trend for cities and towns to swap out their street lamps from traditional incandescent light bulbs to energy efficient LED light bulbs. LED roadway light bulbs are becoming the bulb of choice because of their efficiency. They consume far less energy than incandescent bulbs do, therefore significantly cutting electricity costs. LEDs also have longer bulb lives, which lower the maintenance costs of frequently changing burned out bulbs. These bulbs are designed to easily retrofit existing lighting fixtures, another reason they are the more attractive choice. Towns and cities that contain LED streetlights are immediately greeted with a community oriented, environmentally-friendly image. Often times, Federal and State Government provide rebates and incentives to those townships that wish to Go Green by adding energy efficient technologies. A list of government incentives can be found at http://www.dsireusa.org.
Because LED light bulbs convert more of their energy to light instead of heat, they emit less heat making for a comfortable work environment in construction areas; especially for these unusually warm temperatures we have experienced this summer. Typically incandescent light bulbs do not perform well in extreme temperatures, whether cold or warm. LED light bulbs are particularly durable and are not affected by drastic temperatures. Because of their durability, they are also resistant to damage from vibration or shock. Roadway bulbs can also be used for security measures in parking lots or right outside of buildings. They provide an ideal light for sidewalks, in which they give off a more directional beam as not to create light pollution that spills into resident's yards or homes.
Go Green LED Bulbs offers a Post Top Roadway bulb that is equivalent to a 75 to 100 watt incandescent bulb, but only uses 20 watts to illuminate. This particular bulb contains a 360 degree beam angle, making it a perfect fit for construction sites or parking lots where a large amount of light is necessary. Another Post Top Roadway Bulb provided by the company uses only 24 watts to produce a light equivalent to that of a 75 to 100 watt incandescent bulb. This bulb's 360 degree beam angle makes it usable for a variety of applications including construction, parking lots, and security lights. Both of these bulbs contain a lamp life of 35,000 hours and have a 3 year warranty from the manufacturer. Go Green LED Bulbs' CFLM Roadway bulb contains a 120 degree beam angle, making it ideal for retrofitting street lamps to light up intersections or sidewalks. The directional beam angle will keep the light from spilling into surrounding homes or yards, but sufficiently light up the road and sidewalk. This specific bulb uses 38 watts to produce a light equivalent to that of a 75 to 100 watt HPS bulb, and lasts 50,000 hours. This particular bulb comes with a 5 year warranty from the manufacturer.
ABOUT GO GREEN LED BULBS
Go Green LED Bulbs is a leading distributor of energy efficient products including LED light bulbs, exit signs, flashlights, and more. Located in Round Lake Beach, IL, Go Green LED Bulbs works hard to inform the consumer so they can make the best decision on what LED lighting products are right for their residential or commercial space.