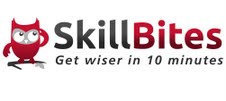 "In just minutes, readers learn the essential skills to accomplish their objectives..."
Valley Forge, Pa (PRWEB) July 26, 2012
Most people know that to maintain a competitive edge they have to keep their skills sharp, but don't have time in their busy schedules to read a book or take a class. Now SkillBites, an innovative online resource center created by attorney and entrepreneur Judy Weintraub, offers a convenient, affordable source of quick, easy-to-absorb and easy-to-implement training materials. Through SkillBites (http://www.Skillbites.net), people can learn key business – and lifestyle – skills in a fraction of the time that it would take them through other learning methods.
Visitors to the website can download individual SkillBites, simple-to-use media files providing essential information in plain English and in an easy-to-absorb format. Each SkillBite takes 20 minutes or less to master and provides the key elements of the subject, as well as practical tips and techniques.
SkillBites are available on a wide variety of different topics, covering both business skills and lifestyle skills. Users interested in sharpening their business skills can learn the essential elements of effective negotiating, the keys to successful sales and how to use Twitter, for example, while on the lifestyle side, they can learn valuable skills such as how to ace a job interview, how to meditate and how to train a puppy. The SkillBites resource center adds new SkillBites regularly.
SkillBites authors are experts recognized in their fields for their specific knowledge and skills. Michael Tasner best-selling author of Marketing in the Moment: the Practical Guide to Using Web 3.0 Marketing to Reach Your Customers First, authored a terrific SkillBite eBook called The Complete Guide to Twitter Traffic. Using this SkillBite, readers will learn basic to intermediate-level tips that will help them increase their traffic on Twitter, from choosing the right user name, to designing an engaging landing page, actively participating in Twitter communities and automating campaigns, all in under 20 minutes. "Traffic, SEO, leads, what more could you want from a social network? Tasner shows you the way with The Complete Guide to Twitter," says Sarah Silverson, founder of The Silverson School and SkillBites reader.
"SkillBites can make a remarkable difference in people's lives," says founder Judy Weintraub. "In just minutes, readers learn the essential skills to accomplish their objectives and gain the confidence to do so, enabling them to achieve their goals better and quicker than they might otherwise have been able through other methods."
About SkillBites™
SkillBites is a convenient resource center that provides useful information that can be absorbed and implemented in a fraction of the time of other learning methods, enabling people to get results sooner. Further information about the company and the resources available can be found at http://www.SkillBites.net.
Judy Weintraub, founder of SkillBites, is also the founder of Weintraub Legal Services (weintraublegal.com), a firm providing corporate law services, as well as Accord LLC (accordllc.com), offering dispute resolution services. She is also the co-founder of Advanced Business Law Resources (ABLR.biz), which provides dispute resolution training and consulting services.