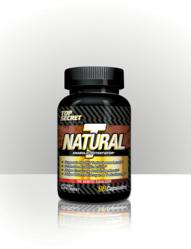 Low testosterone levels can have a devastating effect on a man's health and sense of well-being
Miramar, Florida (PRWEB) July 29, 2012
Top Secret Nutrition announces the release of Natural-T™, a supplement designed to naturally boost testosterone levels in men. Natural-T™ impacts five biological targets: Testosterone production, free testosterone production, estrogen management, nutrient absorption, and anabolic stimulation /protein synthesis.
The majority of men are not aware of their testosterone levels or even why proper levels are vital to a man's health. This lack of knowledge and awareness was made even more critical by recent findings that millions of men in the U.S. suffer from the negative effects of low testosterone levels. This problem is not restricted to the U.S., it is a world-wide issue. In a puzzling development, recent studies found that average testosterone levels in U.S. men today are about 20% lower than the average levels found in men 25 years ago.
Low testosterone levels have a devastating effect on a man's health and sense of well-being. Low testosterone in a man can be closely associated with low libido, fatigue, loss of muscle mass, increased fat levels, inability to concentrate, trouble sleeping, hair loss, and more. It is easy to see why doctors today are preoccupied with this issue and why every man should monitor his testosterone levels. It is hard to understand why a testosterone level test is not automatically added to every man's prescription for regular blood work. Adding the test is as simple as having the doctor check a box in the form and it is more often than not excluded.
Some facts to better interpret testosterone levels:

Most men reach their peak testosterone level in their early to mid-thirties
After the age of forty, men typically lose 1% of their testosterone per year
Until recently the "normal range" of testosterone level was determined to be between 250ng/dl and 1100 ng/dl
Increasingly physicians are moving away from accepting the "normal range" and looking at 600 ng/dl to 1100 ng/dl as the "optimal" testosterone levels for a healthy male (the typical levels experienced by a man in his early to mid-thirties)
"Optimal" levels differ between men
According to Patrick Jacobs PHD, a respected exercise scientist, "A man's 'optimal' testosterone levels should not be limited by his age." (i.e. why shouldn't a seventy year old man want to feel like he was thirty?)
"The results from our in-house tests of Natural-T™ are off the charts. Those who have taken it report positive effects within the first 10 days. The supplement is more effective than even we had anticipated. These early results have encouraged us to incur the expense to conduct formal clinical trials on the supplement. These are in process. I can't wait to receive the results from those and further substantiate the performance claims for Natural-T™", stated Tom Richardson, CEO of Top Secret Nutrition.
Natural-T™ is being launched through some of the leading online and brick-and-mortar stores. Additional information about the Natural-T™ supplement and other Top Secret Nutrition products is available at http://www.topsecretnutrition.com.
About Top Secret Nutrition:
Top Secret Nutrition is a developer and marketer of high-quality nutritional supplements with the purpose of "Fueling Active Life Styles 24/7" and is considered a leader in sports nutrition, general heath and weight management supplementation. The company currently has 33 products spanning across the three supplementation segments. These products are widely available in the United States and increasingly available in international markets.
Top Secret Nutrition is based in Miramar, Florida. All of its products are manufactured in the United States using Good Manufacturer Practices (GMP) certified labs. For more information or to schedule an interview, please contact Tom Richardson at (954) 496-9600 or tom(at)topsecretnutrition(dot)com.