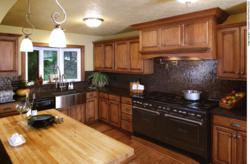 Refacing & More is much like a franchise, but without the fees or royalties.
(PRWEB) July 27, 2012
The company is seeking remodeling contractors or finish carpenters who are interested in becoming certified Refacing & More contractors. "The home construction and remodeling sectors have been hit hard during the recession and many skilled workers haven't been able to stay busy with the same work they've always done," suggests Scott Korsten, Showplace director of marketing. "A good trim carpenter can quickly and easily learn refacing as an additional skill, providing another source of income in a field that is familiar."
Refacing & More was developed by Showplace to address the increasing demand by homeowners for cabinet refacing, while also providing new business opportunities to small remodeling contractors throughout the country. Refacing & More is an entry point into the family of Showplace quality and selection, specially tailored for independent refacing contractors. Refacing products from Showplace are of the same quality in every way, and are manufactured right along with other Showplace products.
"Refacing & More is much like a franchise, but without the fees or royalties" adds Jon Bour director of refacing sales and development at Showplace. "Showplace supports participating contractors with things like training, bid and labor estimation programs and marketing support, allowing them to expand their business opportunities in a tough housing market."
What makes the Refacing & More process from Showplace different from that of other refacing providers is that, while certified contractors update the look of their client's existing cabinetry, homeowners also have the creative freedom to add entirely new elements, using top-quality Showplace components, that simply weren't necessary or available when their existing kitchen was first designed – a blending of new and refaced cabinetry.
According to Bour, things like custom hoods or islands can be easily integrated into the project using products that are visually the same as the refaced cabinetry. "Once a project is completed, you'd be hard pressed to tell which cabinets are new and which were refaced," he said.
With Refacing & More, homeowners are able to keep their existing structurally-sound cabinets, while transforming them with a fresh, new face using the styles, wood species, and finishes that are popular today.
Refacing can typically be completed in two or three days, which makes it an ideal solution for homeowners happy with their existing kitchen or bath layout and simply looking for a quick make-over with little disruption to their home life.
For many traditional kitchen and bath dealers, refacing is unknown territory – and may be someplace that they'd rather not go. It's understandable that many highly-trained and creative designers at these dealerships prefer starting with a blank sheet and creating completely new living space for their clients. But there's also a market for cabinet refacing that has been a force in remodeling for some time and has strong appeal to increasingly cost-conscious homeowners.
Independent contractors interested in more information on becoming a certified Refacing & More contractor are encouraged to contact Jon Bour at info@RefacingAndMore.com or 1.877.581.1413.
About Showplace Wood Products:
Employee-owned Showplace Wood Products, Inc. manufactures fine all-wood cabinetry for the home, sold through independent kitchen and bath dealers in all 50 states. Every cabinet is made-to-order to fit the individual homeowner's specific style and space requirements. Showplace is among the largest American-made cabinet manufacturers in the country; it is a certified participant in the Kitchen Cabinet Manufacturer Association's (KCMA) Environmental Stewardship Program (ESP) and its products are CARB2 compliant.
Showplace has 368 employees with two manufacturing facilities, one in Harrisburg and another in Beresford, SD. The company also has six retail showrooms, called Showplace Kitchens – these showrooms are located in Harrisburg and Sioux Falls, SD; Urbandale, IA; Parker, CO; Fargo, ND; and Brainerd, MN.
In addition to its cabinet refacing program, Showplace builds and distributes custom and semi-custom cabinetry for the home. The company also builds Murphy wall-beds, entertainment centers, designer closets, and cabinetry for home offices.
Related Showplace web sites:
http://www.RefacingAndMore.com
http://www.ShowplaceWood.com
High resolution images are available to download in support of this news release:
http://www.showplacewood.com/SWPimages/renew/10.06/2/index.RA11M.AUV.html
(roll-over the top row thumbnails to view a larger image; click the thumbnail to download high-res)
Kitchen details for downloadable images:
Door style: Covington | Species: Maple | Finish: Vintage Autumn
"This busy family home was given new life with Refacing & More by Showplace. Most of the cabinet boxes were reused, but with new doors and veneer facing. New elements were incorporated into the design, including the elegant wood hood above the range, the island and the refrigerator cabinets."
"Refacing & More - From Before to After" 5-minute video:
http://youtu.be/pb62k2g0f0I