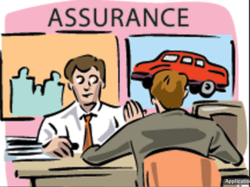 Assurance.com not only caters to large Assurance Companies, but to Affiliates, Advertising Agencies, and Direct Market Marketers.
Boston, MA (PRWEB) July 26, 2012
DomainAdvisors, a leading broker of ultra premium domain names, announced today that Assurance.com has been listed exclusively for sale with their firm.
Assurance is a product that every person and or family should own, and most already do. Some consumers do not realize that Assurance makes up a very large portion of the highly competitive, multi billion-dollar Insurance Industry. Assurance is the insurance guarding against what will happen such as death and sickness compared Insurance which is guarding against what might happen: accidents, injury, or a type of loss.
Assurance.com not only caters to large Assurance Companies but to Affiliates, Advertising Agencies and Direct Market Marketers. Direct response marketing (designed to generate an immediate response from consumers) is the fastest growing segment of the life insurance industry today (Assurance). According to Pat Wedeking, President of the Life Insurance Direct Marketing Association (LIDMA). "Owning an industry defining domain name like Assurance.com would be the perfect way to assure success for any business!" said President of DomainAdvisors Limited, Jeffrey M. Gabriel.
Descriptive, generic domain names have historically been the most valuable properties on the Internet. Similar domains that have sold in the past show the potential value of the sale of this domain. Some examples include Social.com that sold for $2.6 million, Find.com for $1.2 million, Files.com for $725,000, Local.com for $700,000, and Answer.com that sold for $550,000.
For additional information or offer guidelines on Assurance.com, please contact Jeffrey M. Gabriel at +1 508 689 9569, ext. 701 or Jeff(at)domainadvisors(dot)com.
About DomainAdvisors Limited:
DomainAdvisors assists domain owners and online businesses in the overall planning and execution of their domain strategy. DomainAdvisors offers resources with the knowledge and understanding necessary to provide invaluable guidance during the entire lifecycle of a domain. Services range from consultancy to acquisitions, to all elements of monetization, development, branding and sales. Domains can be complicated and DomainAdvisors provides the opportunity to leverage years of industry experience to help maximize success.