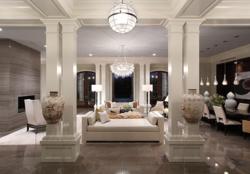 Winter Park, FL (PRWEB) July 26, 2012
Interior Design Magazine has once again included Marc-Michaels Interior Design Inc. in its list of Top 100 Giants. The list ranks all disciplines of interior design, including commercial, hospitality health care and residential interior design. 2012 is the 13th consecutive year that the firm has been awarded a spot on this list.
As one of the largest residential interior design firms in the United States, Marc-Michaels specializes in creating spectacular one-of-a-kind luxury interiors for private residences. This year marks the company's fourth consecutive year in the No.1 spot and 12th consecutive year in the top two spots in the magazine's list of the Top 10 Residential Giants.
A first for Marc-Michaels is to be ranked on the list of firms with the most foreign projects. The firm landed 13th on this list with 60 percent of their projects in 2011 being overseas.
Consistently ranked as an industry leader, Marc-Michaels Interior Design Inc. has been providing highly imaginative interior design and merchandising services more than 26 years. An emphasis on interior detailing combined with a "casually elegant" approach to design form a unique offering sought by clients on an international level. The firm specializes in translating its signature look to private residences, commercial projects and model-home merchandising. Offices are located in Winter Park and Boca Raton, Fla. For more information, visit http://www.marc-michaels.com.