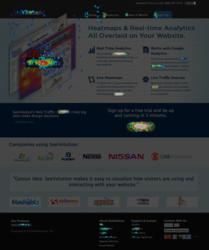 (PRWEB) July 25, 2012
Web-analytics firm SeeVolution has just completed a server migration that has drastically improved the company's ability to analyze clicks, mouse movements, and other relevant data for website developers.
SeeVolution provides real-time traffic breakdowns for web sites to evaluate their visitors' scrolling patterns and clicks so that their designers can determine the most efficient ways to structure their sites. The heat maps exist as a transparent overlay on the site, so they can be examined in real-time while seeing exactly what the audience sees.
The new server migration has dramatically increased the service's processing speed, making it possible for the firm to take on large enterprise clients in addition to small and mid-sized businesses. The company's leaders predict that it will experience exponential growth in the coming months as a result of the migration and advanced processing capabilities.
Former clients will be pleased to discover that heat maps and other reporting tools are now loading 10 times quicker than before, making it faster for web developers to analyze their sites' data and implement changes based on the reports they receive.
After releasing a successful WordPress plug in last month, SeeVolution also begun alpha testing a new statistics engine which is designed to improve reporting capabilities for the company's clients. The software will work with Google Analytics to provide a solid picture of how users interact with a given website.
SeeVolution has already experienced tremendous growth thanks to some of our enterprise level clients. One representative for the company reports that the current improvements are the building blocks of even more advanced enterprise solutions.