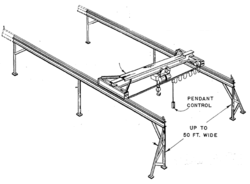 bridge crane plans are for the building of a 5-ton top running crane with a single girder
Duluth, MN (PRWEB) July 26, 2012
A new set of bridge crane plans is now available on Gizmoplans' website, giving companies the ability to build their own. The new plans for the bridge crane are the latest to be released, providing an opportunity for companies to save money on purchasing a new or used crane.
Companies often have a lot of material that they need to move within their warehouse or production building and a bridge crane enables them to do this, having the ability to move several tons of merchandise easily. However, bridge cranes are expensive to purchase and can take a large chunk out of a company's budget. By building their own crane, companies can save money and time since they won't have to search for a suitable crane, arrange the purchase contract, and then wait for the crane to arrive at their facility.
The bridge crane plans are for the building of a 5-ton top running crane with a single girder and a dual motor top running. The crane has a speed of 40 feet per minute, giving companies the power to move materials smoothly and efficiently. People that purchase the plans will have a list of parts that should be obtained to complete the crane. These parts include a motorized trolley hoist, an electrical control festoon system, and the dual motor top running end trucks.
The crane plans also include the following specifications:

Up to 50 ft bridge beam span
CAD drawings in PDF format
Complete materials list
General layout assembly
Overall length as desired
Individual piece part drawings
Supplier list
The crane can be fabricated on site or companies can choose to have a local fabricator build it since it does not require the use of any specialized tools. The steel can be found easily, cutting down building time significantly. Customers pay for the plans on the website and can immediately download them so that they can start construction at once. If any questions or problems arise, Gizmoplans has a support staff that is happy to assist them. For more information about this crane, please visit http://gizmoplans.com/bridge-crane-plans.
About Gizmoplans:
Gizmoplans is an online informational website that provides businesses and individuals with downloadable DIY solutions. These plans can be used to build projects for recreation, hobbies, recycling, industry, woodcrafts, metal fabrication, alternative energy and much more. Gizmoplans is also a hub for businesses and individuals to upload and sell their own plans, patterns, how-to ebooks and more. This online marketplace can benefit both the purchaser and the seller in the DIY community. To get more information on DIY plans and DIY projects, visit Gizmoplan's website at http://gizmoplans.com/.