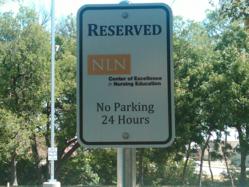 "I look forward to congratulating the 2012 COE designees, publicly acknowledging…the key role that faculty, deans, and health care professionals play in achieving this coveted status," said NLN CEO Beverly Malone.
New York, NY (PRWEB) July 26, 2012
Six schools of nursing representing programs across the academic spectrum, as well as three health care organizations, have been chosen NLN Centers of Excellence, the National League for Nursing has announced. These schools and organizations will be formally recognized at the NLN's annual Education Summit. The four-day gathering, which will be held this year in Anaheim, CA, September 19-22, always draws a capacity crowd of nurse faculty, deans, administrators, and professionals from health care organizations. The COE presentation is part of a special ceremony during the President's Reception and NLN Banquet, beginning at 6:15 pm on Friday evening, September 21.
"I look forward to personally congratulating the 2012 COE designees in Anaheim, publicly acknowledging their contributions to excellence in nursing education and the key role that faculty, deans, and health care professionals play in achieving this coveted status," said NLN CEO Beverly Malone, PhD, RN, FAAN. "It wouldn't be possible without visionary leadership and inspiring nurse educators dedicated to excellence."
With the 2012 application cycle, the NLN has expanded the COE recognition program, establishing a new category: Creating Workplace Environments that Promote Academic Progression of Nurses. It is designed to spotlight the critical importance of creating partnerships for the advancement of nursing education. The first organizations to receive this COE designation are three academic medical centers: North Shore-Long Island Jewish Health System in New Hyde Park, NY; Trinitas Regional Medical Center in Elizabeth, NJ; and the University of Kansas Hospital in Kansas City.
Another first in 2012: Indiana University School of Nursing, comprising campuses in Indianapolis, Bloomington, and Columbus, has the distinction of being recognized as a Center of Excellence in two categories simultaneously: Creating Environments that Promote the Pedagogical Expertise of Faculty and Creating Environments that Advance the Science of Nursing Education. Indiana's third continuing designation for Promoting Pedagogical Expertise of Faculty is effective for five years, from 2012 through 2017.
Initial and second COE designations are granted for a four-year term. Two schools, Christ Hospital School of Nursing in Jersey City, NJ and UPMC Shadyside School of Nursing in Pittsburgh, PA, earned continuing designation in the category Creating Environments that Enhance Student Learning and Professional Development. New York University in New York, NY and Wagner College in Staten Island, NY were both first-time designees in this category. Brookdale Community College in Lincroft, NJ was awarded a continuing designation in the category of Creating Environments that Promote the Pedagogical Expertise of Faculty.
Throughout the four or more years that institutions carry the COE designation, they are expected to serve as advisers and sounding boards to others that seek to gain COE distinction. "The NLN relies on its COEs to be standard bearers of excellence, role models whose faculty, deans, and staff are available to share expertise, insight, knowledge, and experience to lift the entire nursing community to a higher level of achievement," noted Judith A. Halstead, PhD, RN, FAAN, ANEF, president of the NLN. "We rely on Centers of Excellence to help fulfill the mission of the NLN, guided by the core values of caring, integrity, diversity, and excellence."
Also, each year, students enrolled in COE schools have an opportunity to share their thoughts on the meaning of excellence in nursing education, what fosters excellence, and what it means to them to be part of a COE-designated nursing program. As in years past, the winner of the Student Excellence Paper Competition will be acknowledged at the COE presentation. He is William Rosa from Hunter-Bellevue School of Nursing whose paper is entitled, "Nursing Education: The Marriage of Mountaintop and Marketplace."
Each year since 2004, the NLN has invited nursing schools to apply for COE status, based on their ability to demonstrate in concrete, measurable terms sustained excellence in faculty development, nursing education research, or student learning and professional development. Schools, and now with the new category, health care organizations, must also have a proven commitment to continuous quality improvement.
For more information about the COE program, please visit http://www.nln.org/recognitionprograms/coe/index.htm.
Editors and reporters: For interview opportunities, please contact NLN chief communications officer Karen R. Klestzick at 212-812-0376.
About the NLN
Dedicated to excellence in nursing, the National League for Nursing is the premier organization for nurse faculty and leaders in nursing education. The NLN offers faculty development, networking opportunities, testing services, nursing research grants, and public policy initiatives to its 37,000 individual and more than 1,200 institutional members who represent nursing education programs across the spectrum of higher education.