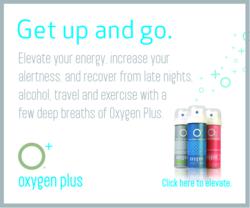 O+ is offering affiliate websites promoting Oxygen Plus an above-average commission rate of 15%.
Minneapolis/St. Paul, MN (PRWEB) July 30, 2012
Oxygen Plus (O+), the leading purveyor of 95% pure, portable recreational oxygen, today announced the launch of the O+ Affiliate Marketing Program – the first in its industry.
Oxygen Plus's affiliate marketing program offers a wide breadth of online banner ads with attention-grabbing imagery and messaging relevant to the main sectors of the rapidly emerging recreational oxygen market. Sports and fitness companies, hotel and travel-related entities, bars and nightclubs, areas with stale or polluted air, and any establishment with a footprint at higher elevation can now lead their customers to what very well could be a much needed breath of fresh air – or rather 95% pure recreational oxygen.
O+ is offering affiliate websites promoting Oxygen Plus an above-average commission rate of 15% on all sales directed to and processed through the O+ website. Oxygen Plus is excited to extend its reach to online Spanish-speaking communities with the translation of one of its longest running taglines: "Get up and go" ("Levántate y adelante").
"We've designed our program with the affiliate in mind – offering a high commission, no earning caps and banner ads for the main segments or applications of O+ portable, recreational oxygen," explains Oxygen Plus Director of Marketing Lauren Carlstrom. "With multiple size and color options, a strong and compelling brand, and a product category that people continue to recognize as the hottest new energy supplement or alternative, we're confident our affiliate program has wings to bring our affiliates sustainable success."
Utilizing OmniStar, a leader in affiliate software, to track and manage clicks and commissions, O+ affiliate marketers will experience a user-friendly interface, software that easily integrates with a website's current design, and the opportunity for additional revenue with minimal time and effort.
If you are interested in learning more about the O+ Affiliate Marketing program, please visit https://net.osiaffiliate.com/oxygenplus/users/register.php or contact Oxygen Plus at (866) 675-8711.
ABOUT OXYGEN PLUS, INC.
Elevating from their headquarters in Minnetonka, MN, Oxygen Plus, Inc. (O+) is leading the development, manufacturing and marketing of portable, recreational oxygen for wellness-minded persons worldwide. Elegant in style and available in a variety of refreshing flavors, all O+ products offer the most oxygen per can volume than any other lightweight, recreational canned oxygen on the market. The active ingredient is 95% pure oxygen. Just a few breaths helps revitalize, boost energy, increase alertness and mental clarity, and helps to alleviate the effects of altitude and a night on the town. Elevate your IQ at http://www.oxygenplus.com, and breathe with O+ on Twitter, Facebook, YouTube and Pinterest.