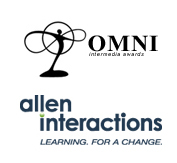 These awards are a tribute and testament to the quality of work we strive for to enhance the learner's experience and achieve business impact. - Paul Howe
Minneapolis, MN (PRWEB) July 30, 2012
Allen Interactions was recognized as a seven-time winner of the Spring 2012 Omni Intermedia Awards. Allen is a custom training design, development, and strategic consulting firm earning international acclaim for their e-learning and blended solutions. They won seven awards for outstanding work partnering with client organizations Bloomberg, BridgeWorks, DBi Services, HD Supply, and Operation Lifesaver.
"These awards are a gratifying tribute and proud testament to the achievements our studios strive for," stated Paul Howe, vice president of sales, Allen Interactions. "They first and foremost look to enhance the learner's experience and achieve business impact."
Winning entries (Client Organization – Course Name – Category):
· Bloomberg – Garbage Game – Educational
· BridgeWorks – GenClash – Educational
· BridgeWorks – GenClash – Internet Delivery
· DBi Services – DBi Laborer – Educational
· HD Supply – Lessons for Sales Success – Educational
· Operation Lifesaver – Railroad Safety for Professional Drivers – Educational
· Operation Lifesaver – Railroad Safety for Professional Drivers – Internet Delivery
About The Omni Awards
The Omni Intermedia Awards are owned and operated by Media Corp Inc., which exists to recognize outstanding media productions that engage, empower and enlighten.The Omni Intermedia Awards are primarily focused in the converging fields of Film, Video, TV, Internet, Interactive Media, Animation, and Audio production. As a nationally known award competition, they have developed a reputation by only awarding those people who exemplify the highest standards of quality.
Media Corp Inc. is also dedicated to educating and training higher education students. Media Corp Inc. has participated in training students for several events, including The Goodwill Games, ABC Monday Night Football, and the planning for the 2010 Olympic Games. Media Corp Inc. is committed to the idea that today's students will lead tomorrow's media companies. By offering them real world experience during these formative years, they will be able to handle the stress and challenges of tomorrow.
About Allen Interactions
Allen Interactions is an internationally-acclaimed company focused on improving performance through powerful learning experiences. For nearly 20 years, Allen Interactions has designed and developed custom e-learning and blended learning solutions to address the widely varied performance goals of the world's leading organizations. With a wealth of experience and a track record of success in instructional design, technology, creativity, process, and project management, Allen Interactions consistently achieves positive business impact.
In addition to its service offerings, Allen Interactions recently launched a revolutionary authoring and publishing platform, ZebraZapps, which allows developers and non-programmers to create rich interactive media applications easily and quickly, as well as share, publish, and sell reusable learning objects or entire applications.
To learn more visit: http://www.alleninteractions.com.