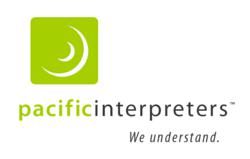 This new chapter in the partnership between Fluent and Pacific Interpreters is a win-win for the customers and the companies
Dallas, TX (PRWEB) July 30, 2012
Pacific Interpreters, Inc., a Sterling Partners portfolio company and a leading provider of over-the-phone interpreting for healthcare, business, and government markets, today announced it has combined forces with North Carolina-based Fluent Language Solutions, Inc. (Fluent), a comprehensive language services provider offering face-to-face, over-the-phone and video interpreting, as well as translation services, to more than 1,700 customers.
Fluent and Pacific Interpreters have been business partners for a decade providing complementary language services. Formally combining the organizations enhances each company's language access offering to better serve customer needs in the most effective manner.
"We are thrilled to welcome the Fluent team and its customers to the Pacific Interpreters family," said Peter Harris, chief executive officer, Pacific Interpreters. "Our combined team will continue to focus on delivering an extraordinary customer experience while providing high-quality language services. This transaction is another example of the commitment of our primary investor, Sterling Partners, to invest in people and technology to expand language services."
Fluent also brings to the combined organization highly respected proficiency in American Sign Language (ASL). Fluent's co-founders, Cheryl Pfeiffer, CSC, SC:L, and Richard Haffner, CI, CT, SC:L, began their careers as ASL interpreters; both will join the executive team of Pacific Interpreters. In addition, the acquisition of Fluent allows the companies to provide expanded support to customers in the southeastern U.S. for onsite interpreting, service implementation, and ongoing customer care.
"This new chapter in the partnership between Fluent and Pacific Interpreters is a win-win for the customers and the companies," said Pfeiffer. Haffner added, "Combining our talents and technologies will allow us to develop new and creative products to serve customers from both companies."
Pacific Interpreters will continue to direct the combined organization from its headquarters in Dallas, Texas, and will add the operating locations of Fluent in Charlotte, NC and Raleigh, NC to its existing U.S. operations in Portland, OR and Omaha, NE.
About Pacific Interpreters, Inc.
Pacific Interpreters, Inc. is a comprehensive language services provider, helping to eliminate language barriers for Limited English Proficient (LEP) individuals by offering telephonic interpreting 24/7/365 in over 180 languages, fast and accurate document translation, and expert consulting. Established in 1992, Pacific Interpreters offers specialized language services for healthcare, business, and government markets.
About Fluent Language Solutions
Founded in 1989 by two nationally recognized and certified interpreters, Fluent Language Solutions, Inc. is one of the largest full-service language services providers in the country. Headquartered in Charlotte, NC, Fluent offers video interpreting and translation services to all 50 states and Canada, and local onsite interpreting service throughout North and South Carolina and Nashville, Tennessee. The company serves over 1,700 clients in the healthcare, government services, legal, educational, and corporate communities.