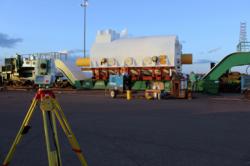 specialized measurement products and services for the railroad and tunnel industries
Virginia Beach, VA (PRWEB) July 26, 2012
InfraMeasure, Inc. has established partnerships with Swiss manufacturers Leica Geosystems & Amberg Technologies and German manufacturer Poltinger Precision Systems (PPS) to be a single source for specialized measurement products and services for the railroad and tunnel industries.
InfraMeasure's product line features their new, patent pending SafeLoad™ - a high-wide (dimensional) load measurement system, Leica Geosystems' total stations & high definition laser scanners, Amberg tunnel surveying & geotechnical monitoring systems and PPS tunnel machine guidance systems. Service offerings include high precision railway clearance analysis with the exclusive Amberg GRP portable clearance system, measurement workflow & process improvement consulting as well as training and technical support for all products sold.
Brian Daniel, President of InfraMeasure stated: "As our entire business is focused on rail and tunnel measurement applications, we understand the challenges and expectations. These markets have extremely unique measurement requirements for a wide variety of applications, coupled with an inherently challenging and dangerous working environment.
"This specialization, along with our partnerships with some of the world's leading measurement technology manufacturers, enables our clients to routinely double productivity while realizing unprecedented gains in safety, accuracy, reporting and measurement standardization, which ultimately means more profitability."
Safety and Efficiency for the Railroad Industry:
SafeLoad™, by InfraMeasure is the first portable, high-accuracy, laser-based, measurement and documentation system designed specifically for the dimensional (high-wide) transport industry. This innovative system is the collective result of close collaboration and extensive field testing with various Class I railroads, industry experts and governing agencies. The exclusive MeasureLogic™ intelligence within the SafeLoad™ software provides step by step, easy to follow user guidance per AAR guidelines. This results in easy implementation, immediate return on investment and minimizes or completely eliminates many inherent risks that are associated with measuring and transporting high value-high risk commodities.
The primary motivation for the development of SafeLoad™ was to provide a solution to reduce fall-related risks and exposures to train yard hazards to Mechanical personnel at the Class I railroads. Additional motivation was related to measurement accuracy and efficiency. The SafeLoad™ system facilitates the standardization of high-wide measuring procedures and eliminates inaccuracies due to rounding of measurements, human mathematical errors, human transcription errors, irregularities in car decks and irregularities in track. This reduces the risk of clearance-related accidents and derailments.
Improved measurement accuracy allows railroads to better serve their customers by accepting shipments that may otherwise be rejected due to over-conservative factors of safety.
Other efficiencies are gained through reduced labor costs, as SafeLoad™ is easily operated by one person and loads can be measured at least 50% faster than the current method. With SafeLoad™, high-wide loads are measured more safely, at a higher accuracy, with less people and in less time. This gets the commodity to the customer quicker, along the most efficient route and reduces risk to people, the railcar, the commodity and surrounding railway infrastructure.
About InfraMeasure:
We solve measurement challenges. As a distribution partner with some of the world's leading manufacturers of measurement technology such as Leica Geosystems, Amberg Technologies and Poltinger Precision Systems (PPS), InfraMeasure provides specialized measurement solutions to overcome the unique and challenging requirements of the railroad and tunnel industries.
Our corporate brochure provides more details about our products and services.