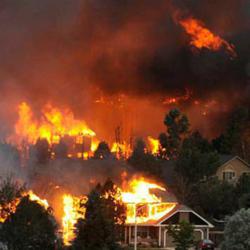 Neptune, NJ (PRWEB) July 26, 2012
Wildfires are causing millions of dollars in damage across the United States this year. The state of Colorado has been and continues to be devastated by wildfires. The fire named the "High Park Fire" and the "Woodland Heights Fire" destroyed nearly 300 homes in Larimer County. The estimated loss has been calculated at over $50 million dollars.
California, Idaho, Arizona, Oregon, Wyoming and other western states are also dealing with wildfires, as is the state of Nebraska where drought conditions are contributing to the extreme wildfire dangers.
The threat of wildfires is always present in rural settings. Although local, county, state and federal agencies work extremely hard and do a great job, home and business owners need to vigilant and proactive.
The US Forest Service has recently approved the use of FireIce for an environmentally friendly and cost effective water enhancing fire suppression. FireIce can either be applied to a structure with a home defense unit (http://www.allhandsfire.com/FIREICE-HOME-DEFENSE-UNIT) or used as a fire suppression by fire extinguishers (http://www.allhandsfire.com/Fire-Extinguishers), pumper trucks and aerial deployment.
Here are some tips on how to protect both people and property:

Having a family disaster survival plan is of utmost importance. Plans should include what to take (important documents, heirlooms, etc.) if fast evacuation from home is necessary. Escape routes out of town should be planned as well as meeting points. Also, destination locations should be known whether it's to an established organized emergency shelters or private arrangements such as the home of family or friends outside of the danger zone.
Awareness of emergency situations and conditions is important. This includes knowledge of wildfires in the area, weather conditions, recommendations and instructions by local officials, etc.
Maintenance of property, not just when a wildfire is approaching, but always. Established defensible space can be achieved by keeping vegetation manicured and off structures, fuels should never be stored close to structures such as houses, sheds and garages. Additionally, combustibles such as fire wood shouldn't be stored close to buildings and gutters should be kept clean and free of debris.
Fire retardant materials like fire resistant roofing shingles, paints and similar building materials should be considered. Another item to consider is fire suppression gels, like FireIce® which can be applied to a structure. It applies a protective layer on a surface to provide a thermal barrier and help protect against fire.
Chief Don Colarusso, a leading supplier of Fire Equipment and a firefighter with more than 24 years experience said "Having a home defense system like FireIce Gel on hand is a good idea and can really help protect your home as wildfires approach."