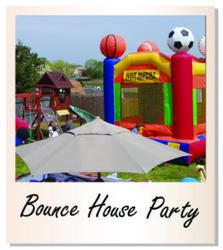 You cannot solely rely on the rental company to make sure your kids have a fun and safe time.
Sun Valley, CA (PRWEB) July 30, 2012
The constantly increasing popularity of inflatable games such as bounce houses and water slides can, in many circumstances, be attributed to the need for an affordable entertainment alternative from other amusement venues such as water parks. Among the many benefits of renting inflatable games include their inexpensive nature, versatility of scheduling, and ease of delivery; along with the sustained safety record of the rides. Although incidents in the past have caused speculation of the inflatable rides safety record, when considering other amusement attractions, bounce house injuries have been limited and are among the safest and most enjoyable entertainment games that families can enjoy. Although inflatable rental companies are ultimately responsible for the safe operation of the games, the public must also take steps to make sure riders have a safe and enjoyable time.
Bounce house manufacturer Best Jumpers says "you cannot solely rely on the rental company to make sure your kids have a fun and safe time. As a parent you have to take steps to ensure safety comes before enjoyment." They suggest first and foremost following all guidelines that are attached with the inflatable games. "The safety rules are there for a reason and must be followed so no one gets hurt" says Operations Director David Z. One of the main safety rules on an inflatable is removing riders and deflating the bounce house or any other inflatable game once winds kick up to 15 mph. "While not every parent is going to have a wind gauge on hand, as supervising adults you must make a call to remove riders, deflate the game, and contact the rental company." Other areas that require parental discretion are the anchors. The anchors should be properly strapped down, absorption mats laid where necessary, and the blower cord and nozzle strap should be secured from foot traffic and fastened tightly. The Best Jumpers team also suggest that adult attendants be present at all times when children are in the inflatable games. Adults should be available to guide the children in and out, supervise overcrowding, and ensure there is no rough play. "Attendants and parents must not only watch for an overcrowded bouncy castle, but must also be vigilant to pair kids of similar weight and stature. You do not want toddlers and five year olds playing in the same area."
While bounce houses for sale can be enjoyable, affordable, and easy to rent, precautions must be taken to ensure safety. Most incidents that occur are preventable if the attendants are aware of the rules. A precautionary tactic of note is always asking the delivery driver to perform an additional check of all areas and to advise the attendants of important emergency procedures. "The reality is, inflatable games run on the notion of a constant stream of electricity and pressure. If the power goes off, the attendant must know what steps to take to get all riders out to safety." The first step is to be calm, although the blower has stopped pumping air inside; there is still enough air to make sure everyone gets out safely, insists David. Being a bounce house manufacturer, Best Jumpers inflatables has made it a mission to not only incorporates a main exit from the inflatables, but also an emergency exit on the roof. Parents and supervisors therefore can use both exits to safely guide children out.
As an entertainment alternative, the popularity of inflatable games among the public is partly due to safe nature of 100% United States manufactured moonwalks. "When considering a bounce house on sale at your local retail outlet, remember that the saying 'you get what you pay for' still stands. Not only are cheap alternatives stitched with low quality material, but they may also carry excessive amounts of lead and other hazardous toxins which can be harmful to anyones immune system."
As parents, it is our responsibility to reinforce the safety features and lessons that rental companies provide. Bounce houses are enjoyable for children and parents alike as long as all precautions are taken. We must only remember to be safe and have fun.