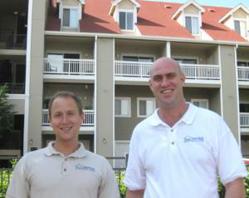 Denver, CO (PRWEB) July 27, 2012
Lifetime Windows and Siding is donating windows to Marine Captain Patrick (PJ) Glavey for his custom-built, specifically adapted home. These energy efficient, Energy Star® rated windows will cut down on the heating and cooling costs for his home, making it easier for him and his family to enjoy comfort at all times of year. The Homes for Our Troops Build Brigade will be putting the home together to ensure he is able to navigate and enjoy his home despite his injuries.
The Build Brigade will be working on July 27, 28, & 29 on the home in Brighton, Colorado. Cpt. Glavey has expressed his gratitude to those who are working on his home, "Thanks to Homes for Our Troops, I will have the opportunity to live alongside my family...assisting them in daily life rather than being a burden."
Cpt. Glavey was wounded just one and a half months into his first deployment in Afghanistan when he lost both legs in an IED blast. He was working on a clearing operation with the Explosive Ordinance Disposal Team on October 28, 2010 when he stepped on an IED. He lost his right leg above the knee, his left leg below the knee, and one of his fingers. He was evacuated by helicopter, then transported to Landstuhl, Germany. Cpt. Glavey arrived at Bethesda Naval Medical Center within days of his injuries, but had to remain there for nearly eight months while more than a dozen surgeries were performed. He was then transferred to Balboa Naval Medical Center, where he continues to receive treatments and therapies.
Cpt. Glavey enjoys the time he spends with his fiancée, Laura, and donates much of his time to veterans' programs, such as Veterans' Village, Stand Down, and the Salvation Army. His hobbies include mono-skiing, swimming, and writing. In Colorado he plans to further his education so that he can better provide for his future wife and family.
Company owners Peter Svedin and Jason Lewis explained their commitment to the Homes for Our Troops program, "It is so rewarding to be able to contribute to the efforts of Homes for Our Troops. Veterans like Cpt. Glavey have sacrificed so much, but still have so much to give. Providing them with custom-built homes helps them to continue to share their gifts with us."
About Lifetime Windows and Siding
Lifetime Windows and Siding offers energy efficient, low maintenance, and quality home improvement products to homeowners across the Front Range, including windows, glass doors, and steel and vinyl siding. Backed by lifetime warranties with complete satisfaction guarantees, Lifetime Windows and Siding's products are all made in the USA.