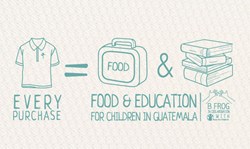 To receive fully, you first need to give fully
Miami, FL (PRWEB) July 31, 2012
Bfrog, a startup company that sells handmade Mayan textiles mixed with contemporary clothing designs just launched its website. Bfrog is donating part of its income to improve the lives of children in need, supplying them with food and education.
Many companies have turned their interest towards giving back to the community. It is not a catchy PR thing but a way to create good karma in business. For a while startups have been changing the way they do business. Many companies have found causes, which they believe its worth fighting for and then, develop a strategy to make a profitable but at the same time charitable business, and by doing it they contribute to society.
Brothers Christian and Steven Cremer inspired by the beautiful textile colors and designs that Mayan communities in Guatemala produce by hand founded Bfrog, which creates unique, trendy and high-end clothing for consumers around the globe.
Bfrog made an alliance with Save The Children, in which they donate to improve the lives of children in need in third world countries with every purchase customers make.