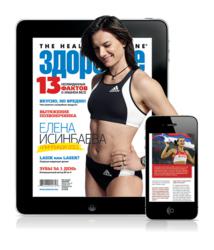 The most popular Russian language publication in USA is now available on iPad.
(PRWEB) July 27, 2012
А complete issue of the acclaimed monthly publication — every story, every piece of advice on healthy lifestyle, every new drug, trend, diet, everything in the print edition and more – is on iPad and iPhone. The Health Magazine curates what's best from the most trustworthy sources in media, and then adds original stories and translations on a variety of health related subjects. But the reader gets a lot more than the magazine with our new digital editions: links to websites from our stories, The Health Magazine library to enjoy anytime anyplace. We deliver it electronically, safely and securely.